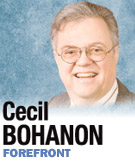 The Indy Chamber is opposing the proposed state constitutional amendment to prohibit same-sex marriages and civil unions. Fifty years ago—even 10 years ago—such a position would have been unthinkable. This is a remarkable change.
Social conservatives will decry this, and social progressives will hail it, but I have no particular comment on the position per se.
What I find interesting is why a stolid business organization would take such a position that would have been beyond the pale a generation ago. The answer is that for the most part, businesses are out to maximize profits.
There are outliers—Hobby Lobby and Chick-fil-A were organized with certain religious sensibilities in mind that steer them to socially conservative positions at the potential expense of profit. Ben & Jerry's Ice Cream and Whole Foods were organized with express purposes that lead them to sacrifice shareholder returns for other ends that progressives find appealing.
I know of no major company with publicly traded stock that was explicitly organized with LGBT causes in mind. This implies that what drives a business's position on such issues is how their bottom line is likely affected.
It seems convincing that for a major corporation in an urban environment competing in a national market for talented professionals, opposing the proposed constitutional ban is in its interests.
For other firms in more local markets in more conservative communities, opposition confers no ostensible financial advantage and might impose financial harm. It is interesting that the state chamber of commerce, which represents businesses in both urban and non-urban areas, is taking a neutral position on the issue.
The imperative for firms to maximize profits implies that businesses are much more likely to reflect social values than to attempt to shape them. Profit maximization is in this sense amoral. This implies that crusaders for any social cause will find that business interests on average will neither support nor deter their goal.
It will also find that at the margin there are always businesses that will discover profit opportunities that cater to the predilections of even the smallest social interest group.
Here is an absurd example. Suppose a group of citizens becomes convinced that if, tomato pickers wear red hats when they harvest tomatoes, some inestimable benefit will accrue to the workers, the environment and society. The proposition is ridiculous, but if its proponents are actually willing to pay for their seemingly strange preference, you can bet some firm somewhere will sell Red Hat Certified tomatoes.
This is a very different narrative from what is often professed by academics of a Marxist stripe. In their view, "hegemonic capitalism" is bound and determined to corrupt all morals and oppress all peoples. All evils stem from capitalists who manipulate naïve consumers and bowl over pliant legislators and policymakers.
What such a view fails to recognize is that profit-seeking firms are neither hegemonic nor monolithic. The solar energy company is as much a special interest as is a natural gas driller—and big energy conglomerates will hedge and play all sides of any government energy policy.
So march, parade, boycott and cajole all you want for any cause you like. That is what freedom is all about. And be assured that if you can bring most citizens around to your view, profit-maximizing capitalism will not stand in your way.
Indeed, it will likely come around to validating your view.•
__________
Bohanon is an economics professor at Ball State University. Send comments on this column to ibjedit@ibj.com.
Please enable JavaScript to view this content.