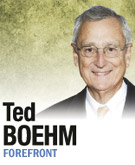 Legislatures in Iowa and California have seen the wisdom of eliminating partisan gerrymandering and the polarized bodies it generates. The call for redistricting reform is growing now that the federal government has been shut down and the nation's credit and the world's economy threatened.
Indiana's legislators draw the maps for their own election and also fix our congressional districts.
The place to start addressing this mess is a less-polarized General Assembly elected from regular, contiguous districts based on natural boundaries. It would, of course, be far preferable if the General Assembly would enact neutral districting plans.
But if no legislative reform is forthcoming, the courts should re-examine the constitutionality of this ultimate form of self-dealing by legislators painting themselves into office.
There is no constitutional ban on bullheadedness or stupidity, but there is a constitutional problem in depriving citizens of meaningful votes in legislative elections, and that is what gerrymandering does.
The earliest attempts to attack gerrymandering as a violation of the U.S. Constitution focused on the law's partisan nature, arguing that the Legislature can't intentionally discriminate against members of one political party by preventing the party from gaining a majority of a legislative house. The U.S. Supreme Court agreed that courts could entertain such a claim, but haven't found any of the challenged maps sufficient to lock a party out of control.
There is a different problem with gerrymandering in its modern, more extreme, computer-driven form. It now creates few competitive districts, and reduces the adherents of one party or another to political impotence in the vast majority of districts.
So what's wrong with this? In a gerrymandered district, only the majority party's primary election is a meaningful step in selecting a legislator. Apart from the chaos gerrymandering produces in the legislative bodies, it leaves millions of voters in Indiana alone without the ability to participate in the selection of their legislators.
Those disenfranchised are Republicans in some districts, Democrats in others, and independents and Libertarians everywhere. But it is no answer to this deliberate disenfranchisement of targeted populations to claim that the law is an equal-opportunity abuser. A neutrally drawn map will no doubt create some districts in which one party has an overwhelming majority. But a neutral map is justified by the valid public policy of requiring contiguous, regularly drawn districts that respect natural boundaries.
It is rational and proper to take necessary steps even if the benefits are not evenly distributed. But drawing a district to preserve an incumbent or further the interests of one party is not justified by necessity or any legitimate public purpose. It should be viewed as a denial of equal protection of the laws to the citizens who do not favor that party.
These constitutional issues are, as far as I know, unresolved. The courts have not been presented with this view of gerrymandering. Nor have they been confronted with the space-age-technology maps today's software produces. And no attacks on gerrymandering have been launched under the Indiana Constitution.
Courts are understandably reluctant to get into the business of overturning legislative districts. But where there are structural barriers to legislative resolution of a major national problem—in this case the legislator's self-interest—sometimes judicial intervention is required.
Though initially controversial, needed reform will ultimately be applauded. Brown vs. The Board taught us that.•
__________
Boehm is a retired Indiana Supreme Court justice who previously held senior corporate legal positions and helped launch amateur sports initiatives in Indianapolis. Send comments on this column to ibjedit@ibj.com.
 
Please enable JavaScript to view this content.