During the 2013 Indy Fringe Festival, the most common question I heard asked wasn't, "What should I go see?" or, "How does Fringing work?"
Instead, it was, "What happened to Yats?"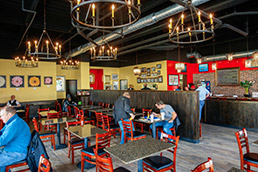 The menu is familiar, but the space is significantly expanded at Yats' new Mass Ave digs. (IBJ Photo/ Aaron P. Bernstein)
It's a question that's been asked since the Mass Ave mainstay closed its doors earlier this year.
Many restaurants, if they disappeared, would leave a gap and a disappointed former clientele. When Yats vanished, though, it left a chasm. While Mass Ave has plenty of worthy restaurants, it's limited in its under-$10, counter-service options. Beyond Yats and Yogulatte, the pickings are slim.
Well, the disappearance was only temporary. Yats is back—you just have to trek a few blocks northeast to its new location (885 Massachusetts Ave.). Once you find it—across the street from R Bistro and The Best Chocolate in Town, you'll see right away that the menu has remained the same. That is, a rotating selection of Louisiana-inspired, scoop-able dishes including Chili Cheese Etouffee, White Chili with Chicken, Jambalaya and Chicken Creole. $6.25 gets you a standard-size portion of anything. $7.25 gets you a combo of any two.
Either way, there's an array of Cajun seasonings and hot sauces if you want to raise the intensity or impress your frat brothers. Plus, your meal includes crispy buttered toast that, if you are like me, you use to sop up whatever stray sauce might still be on your disposable plate. I think I've tried everything Yats has to offer and have never been disappointed.
Ordering at the counter and responding when you are summoned (usually in a matter of moments) to get your dish at the window means no worry about tipping a server. Kick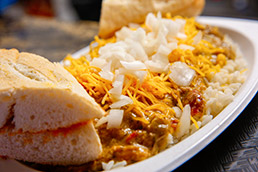 (IBJ Photo/ Aaron P. Bernstein)
in a drink and you've spent about $10. Add in a piece of peanut butter cream pie (when available) and you're on your own. All exactly what you've probably already experienced at any one of the Yats locations.
What's different at the new locale?
Well, roominess is the big plus. In its former life down the block, Yats was so popular that it eventually pushed into the space next door. The two spaces never quite merged comfortably, though. Here, the place is roomy by design. There's now wall space devoted to local art and area enough for live music.
Now, those in line won't be hovering too near your table. And when taking your time with your newspaper or laptop, you are unlikely to feel like you are monopolizing the limited seating.
As such, the new Yats harkens back to the late, lamented Abbey Coffeehouse, where you could nurse a beverage alone for an hour or two, conduct a casual meeting, or grab a bite before a show at Theatre on the Square or the Phoenix. On my most recent visit, I ran into three acquaintances before I even sat down and, honestly, I'm not all that popular.
As to the old Yats location, look for Liberty Street, a new pub, to open soon.•
—Lou Harry
__________
First in a month-long series of reviews of full-flavored restaurants.
 
Please enable JavaScript to view this content.