Bif Ward's motor seems to be always stuck in high gear, churning at a speed that might rival her sporty white Porsche Panamera if she really wanted to test its limits.

For 34 years, she's been selling homes in the Indianapolis area, often to the city's elite, racking up 12-hour days during her busiest times.

Her schedule can be so demanding that her significant other of 23 years, Matt O'Connor, has resigned to calling her job "real estate 911" because she's on call at all hours, whether delivering a house key or rectifying a problem with an appliance.

"She's just a very good multi-tasker, I guess, because there's a method to her madness," he said. "And a lot of times it is madness."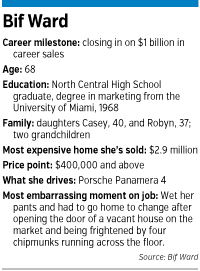 That drive and determination are about to earn Ward an impressive milestone few others in her field can boast: $1 billion in career sales.

To put the mind-boggling figure into perspective, the world's 19th-most-valuable sports team, the Indianapolis Colts, is valued just slightly higher, at $1.06 billion, according to Forbes.

"Yeah, it's a big deal," Ward, 68, acknowledged from her north-side office near 96th and Meridian streets. "That's a lot of years."

Ward is about $1 million short and expects to hit the mark by the end of the year.

She has been a real estate agent at F.C. Tucker Co. her entire career and has a team of four women, including daughter Casey, assisting her. She works from a nondescript office on the first floor of the Tucker headquarters.

She's juggling about 40 listings right now and has tallied $78 million in sales so far this year, a career high, as home prices and sales continue to rebound.

"It's a 24/7 pace for her," said Jim Litten, president of F.C. Tucker. "Quite honestly, there's no way she could do the business she does without that kind of pace."

All the hard work has had its rewards. Ward might take home $1 million or more in a good year, she says. But after paying her employees and handing a percentage of sales commissions to F.C. Tucker, in addition to funding her own marketing costs, her annual take-home is usually closer to $600,000.

The diminutive Ward, at 5-feet tall, undoubtedly is the biggest player in the local residential real estate market, ranking No. 1 on IBJ's annual list of the area's top-selling teams five consecutive years.

Flipping the pages of her appointment book on a recent Monday morning, Ward shows how her hectic schedule, sometimes running from 8 a.m. to 10 p.m., is starting to thin. The Carmel school district (many of her listings are in the northern suburb) was still on fall break, so her schedule was particularly slow.

She's casually sporting black slacks and a gray button-down sweater completed by a pair of flip-flops to provide maximum comfort for a sore toe.

Off to show a $950,000 home on the city's north side, Ward clears the passenger seat of the mementos from the past weekend's activities: a visit to her 50th high school reunion.

Desire to succeed

Once at the home showing around noon, Ward's client tours the 6,400-square-foot residence tucked within an exclusive neighborhood on the northwest side while Ward fields calls on her cell phone.

Ward said she typically is more "hands-on" during a showing, but this is the third time the client has been through the home. Sensing her lifeline is about to go dead, Ward makes a trip to her car to retrieve a hand-held iPhone charger.

In between calls, Ward says it isn't easy being a real estate agent.

"It's a hard job, because the biggest investment is your house," she said. "I can tell people what I think, but sometimes they don't listen."

Ward's clients have included several Indiana Pacers and Indianapolis Colts, including quarterback Andrew Luck, who purchased a luxury downtown condo on North Pennsylvania Street that she sold him listed by Stenz Realty Group.

In many instances, Ward keeps in touch with her clients after conducting business with them.

Aasif Bade, co-owner of local developer Ambrose Property Group, bought a house from Ward and considers her a friend.

"I think of myself as a good negotiator, but in that world, there's no one else that can match her expertise," Bade said.

Ward attributes her success to her love of people and genuine hard work, an attribute not lost on longtime competitor Dick Richwine of the Prudential Indiana Realty Group. He's been in the business longer than Ward, 37 years, and has scaled back his hours after he said he hit the billion-dollar mark a few years ago.

"I don't know anyone who works as hard as she does, and it's paid off for her over the years," he said. "But there's a lot of things you're missing out on if you continue to work the kind of hours she works."

Ward freely admits that she should scale back, but is unsure whether she'll take Richwine's advice anytime soon.

She owns a one-story ranch with a walkout lower level on Lake Clearwater and has a small condo in Naples, Fla., where she occasionally vacations on weekends. Otherwise, in her spare time she likes to read fiction, go to the movies—carefully avoiding scary flicks—shop for shoes, and spend time with her two grandsons.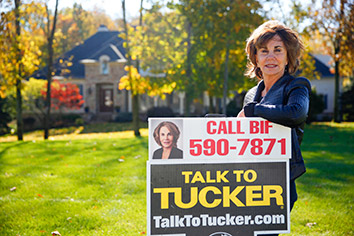 Cut line goes here. (IBJ Photo/Aaron P. Bernstein)
A day before Halloween, Litten at F.C. Tucker said Ward told him she hoped Carmel didn't postpone trick-or-treating until Nov. 1, due to the threat of heavy rain Oct. 31, because she had a wedding to attend and didn't want to miss participating in the festivities with her grandchildren.

Despite Ward's soft side, she has a burning desire to succeed like no other, said Lynn Davis, F.C. Tucker's director of career development.

"She's our major hero, our superstar," she said.

How she became Bif

Ward grew up at 75th Street and Morningside Drive with an older sister who now lives in Zionsville. Their father made a living remodeling homes.

She's been known as Bif most of her life. The unusual name is fashioned from the initials of her given name, Barbara Irene Fischer.

"I guess Bif's kind of catchy, isn't it?" Ward asked, as if still uncertain after all these years about building her name into a valuable brand.

At 16, Ward began honing her sales skills at the former William H. Block Co., working part time at the company's Glendale department store within the women's clothing department. She returned after earning a marketing degree from the University of Miami in Florida.

To no surprise, Ward became the top seller of women's clothing and had the opportunity to become a manager but declined because she could make more money from commissions.

Ward turned to real estate in 1979 because she figured she might as well try selling the homes of her store clients instead of passing on the referrals to her Realtor friends.

She sold her first home—at $200,000, considered expensive for the time—three days after starting in the business.

Even then, determined to get a leg up on the competition, Ward informed her paperboy that she would pay him for any referrals he provided.

Litten, who's been at F.C. Tucker 41 years, recalls teaching Ward in a sales-training class at the start of her career.

She cares as much about her clients now as she did then, Litten said.

"I can't tell you how many mornings she's come in and she's had tears in her eyes because she'll think that someone is upset at her over something," Litten said.

Ward, for instance, recently paid to have a window installed for an irate client who didn't want to pay the labor charge to replace the faulty window still under warranty.

Most real estate agents would do the same, said Ward, brushing off the act of kindness.

"We all try to make people happy," she said.

Ward married her high school sweetheart, and the two stayed together for 18 years before they divorced in 1988. They have two girls.

On the big screen

Through the years, Ward has become a master at publicity.

It all started several years ago when a client convinced her to advertise a listing at a local movie theater. The client's home wasn't selling, and Ward told her she needed to paint some of the different kinds of wood in the home to make it more presentable.

The client agreed. But during the conversation, she asked Ward if she would do her a favor by advertising at the theater where she sold spots.

Ward continued that relationship at the former AMC Clearwater theater until 2003, but discontinued it when the theater's splotchy screen began to take away from her advertisement's message, she said.

The ads had become so effective, though, that a few people called her office to inquire whether Ward had died when she disappeared from the screen.

Ward has no plans to disappear anytime soon from the local real estate scene and declined to even venture a guess as to when she might retire. But she can envision daughter Casey, who has a real estate license, taking over some day.

Asked if she ever regrets becoming a real estate agent, Ward replied: "Never."•