The Hamilton County Convention and Visitors Bureau is trying to keep pace with the county's growth.
This month, the bureau unveiled a new logo and launched a new ad campaign, and the name of the organization could be the next thing to change—possibly early next year.
The logo integrates a map pin that looks a bit like a balloon and is commonly seen on Internet mapping sites.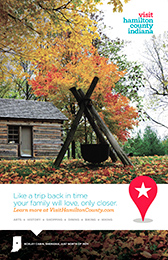 The pin common to Internet-based maps will figure heavily in a new logo and promotions, and marks a sharp break with folksy, small-town themes. (Photo courtesy of Hamilton County Convention and Visitors Bureau)
The organization launched a newly branded website Nov. 11 at Visithamiltoncounty.com and this month will begin running billboard, television, radio and print ads hyping the changes. New signage in and around Hamilton County also will surface in addition to new brochures using the map pin logo.
Bureau officials hope the new campaign will teach locals and visitors alike to associate the sighting of the map pin with a positive message about things to do and see in the county.
Gone is the folksy logo that looks like a postal mark with the slogan "8 Great Towns 1 Destination" underneath it. Instead, the red map pin with a white star in the center will be accompanied by big block letters to the side, customized with various messages. The primary mark says "Visit Hamilton County Indiana." Another says "Hamilton County Indiana.com," while others highlight such attractions as sporting and cultural destinations and events.
"We needed a mark to step up and represent the brand in a better way than the current mark," explained Deputy Director Karen Radcliff. "We're going from a mark that signifies charming, quaint and old-fashioned to one that conveys energetic, contemporary and fun."
The new mark, Radcliff explained, also gives the organization the ability to have a consistent county-wide identifying mark with the distinctive red map pin, but allows county tourism officials flexibility to modify the adjacent wording to market various aspects of the county.
The re-branding also signifies a shift in marketing as new generations mature and rival the massive buying power of baby boomers.
"Millennials are set to surpass boomers in travel spending by 2017," Radcliff said. "We want to be mindful of that in our marketing."
Radcliff added that as that shift takes place, online marketing will be more important than ever, hence the map pin logo.
While much is changing in the marketing plan, it will continue to use the "Only closer" and "Closer than you think" slogans it began using in 2011.
Six-figure budget
The organization has set aside slightly more than $100,000 for the re-branding this year and another significant sum is expected to be set aside for 2014, possibly including a re-naming effort.
The bureau has been working with advertising and marketing firm ThreeSixty Group for several years, and the Indianapolis-based agency was instrumental in the re-branding. Having worked on tourism and event marketing campaigns for the city of Indianapolis and Brown County, ThreeSixty Group is no newcomer to these types of efforts. Area residents are likely to remember the Big Red Arrow campaign ThreeSixty Group was involved in that helped promote Indianapolis' arts and cultural attractions in late 2004 and 2005.
There are several reasons why the map pin is the ideal new logo for Hamilton County, said Scott Willy, ThreeSixty Group co-founder, noting that it took numerous internal conversations and work with focus groups to come up with it.
In addition to being readily identifiable, Willy also thinks the new logo will be well suited for gorilla marketing.
"We think this mark is ideal to be used as a locator icon at ongoing events," Willy said. "We envision placing giant map pins around town to point people to notable destinations and happenings."
What's in a name?
Bureau officials are contemplating following the lead of other convention and visitors bureaus which have put an action word such as "visit" or "go" in their moniker.
It's also important, Radcliff added, to have a name that conveys the organization is "an authority on Hamilton County hospitality and tourism."
In August 2012, the Indianapolis Convention and Visitors Association changed its name to Visit Indy.
Visit Indy invested $30,000 in research and testing, and another $150,000 producing new marketing materials ranging from letterhead and print ads to trade show booths.
"Originally we didn't intend to change the name, but in our testing, we realized Indy had a very positive, hip connotation," explained Visit Indy CEO Leonard Hoops.
Convention and visitor bureaus in Wichita, Kan. (Go Wichita); Bloomington (Visit Bloomington); and Washington D.C. (Destination D.C.), among others, also have changed names recently.
"Convention and visitors bureau or convention and visitors association are monikers that are cumbersome and don't carry much meaning with travelers—leisure or corporate," Hoops said.
Hoops added that Visit Indy also plays a lot better online and in social media than Indianapolis Convention and Visitors Association.
Hamilton County bureau officials said they didn't re-do the logo and name at the same time because they thought it was important to change the logo as soon as possible and put more thought into a name change.
One reason officials launched a new logo and are contemplating a name change is the county's growth and other changes.
Hoops thinks there's a natural need to change a city or region's tourism branding "periodically."
"Brands need to be somewhat fluid as points of emphasis change," Hoops said. "Sometimes the changes are incremental. Other times it's more of an overhaul."
Hamilton County's brand may need to be more fluid than most. Growth in the county is rampant, and the construction of attractions like the Palladium, Grand Park and Nickel Plate Arts Campus, and burgeoning destinations such as downtown Carmel and Noblesville, gives the bureau reason to race to stay up with the times.
"The old logo is a little small town," said ThreeSixty Group's Willy. "The new developments in Hamilton County are not small-town thinking."
Massive change
The branding overhaul is happening as the organization dramatically changes its role in the community.
In the eight years since Brenda Myers became executive director, the organization has morphed into a developer, grant giver and landlord. The strategy appears to be working.
The number of visitors traveling to Hamilton County has grown from 1.7 million in 2005 to 2.1 million in 2011, according to a study commissioned by the bureau. About 2.2 million visitors are projected for this year.
Visitor spending grew from $244 million in 2007 to $292 million in 2011, with expectations of at least $300 million this year.
The annual budget for the organization, which has 17 full-time and 18 part-time employees—has grown from $880,000 in 2007 to $2.9 million this year. That's been more than offset by the rise in taxes flowing into the county from visitor spending, Myers said, up from $79.7 million in 2007 to $94 million in 2011.
Myers and Radcliff have spearheaded an effort to make travel youth sports a major thrust, working with area parks departments and private organizations to make sure they have the know-how and facilities to bid for regional and national contests.
In 2011, Myers and Radcliff worked with the Hamilton County Council and Hamilton County Tourism Commission to let a $3.4 million bond to support facilities development. The total cash outlay by the bureau over the past eight years has been almost $7 million for everything from parks and sports facilities to an artist's colony.
In 2008, the bureau began an arts initiative to mimic its youth sports movement. That arts effort culminated in buying two houses in downtown Noblesville in 2011 to house Nickel Plate Arts, a place for artists to meet, work, hold classes and perform. Radcliff and Myers have also aggressively marketed Hamilton County as a destination for weddings, family reunions and other corporate and leisure gatherings.
"We're looking at every aspect of our organization," Radcliff said. "We know if we don't change to match the rapid growth of the county around us, we'll get left behind and miss out on a lot of opportunities."•
Please enable JavaScript to view this content.