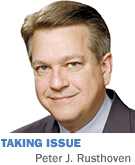 Prominently featured on Sen. Joe Donnelly's website is a column by The Indianapolis Star's Matt Tully, titled "Donnelly Hits It Down The Middle." Tully lavishes praise on Donnelly, contrasting him with "partisan warriors such as Sen. Ted Cruz of Texas."
"To understand Donnelly," Tully says, "all you have to do is look at his reaction to the federal health care legislation championed by President Obama. He voted for the plan and defends its chief tenets, those that protect patients. But unlike some Democrats he talks openly and strongly about its flaws."
Thus, he "has pushed to repeal the law's new tax on medical devices, for instance, and says it should label full-time workers those who work 40 hours a week, and not 30."
Tully's right about Donnelly's moderate style, modeled by his predecessor, Dick Lugar. Readers know I disdain the Ted Cruz approach, which hinders the goals it purports to champion.
It's also true that Donnelly's Obamacare positions are revealing. But contra Tully, it's a mixed message.
Donnelly's correct that the tax on medical devices (e.g., prosthetic implants) is indefensible, harming manufacturers and their employees, many in Indiana. That's why Gov. Mike Pence outspokenly opposes it.
Donnelly's outspoken, too, pledging he "will not stop working to repeal the medical device tax until the job is done." But when a chance to repeal arose, Donnelly ducked.
During recent budget negotiations, Republicans offered a compromise requiring no more than eliminating this tax. Senate Democratic leader Harry Reid called this "stupid," insisting his caucus stand with him. Donnelly went along.
Donnelly's missing in action on other ongoing Obamacare battles. As all know, the president categorically promised that if you liked your health plan, you'd be able to keep it, "period." As all know now, this was false.
As learned last week, it was known to be false when the president kept repeating it. White House staff who review presidential speeches—a vetting process in which I participated while working for President Reagan—said this was untrue. They were overruled by "political aides."
I can find no statement by Donnelly about the false promise that was central to passing the act he supported at every step of its partisan adoption.
Last week, Sen. Ron Johnson (R-Wis.) filed a bill that would make the law do what the president promised—keep your existing health plan. Donnelly is not a co-sponsor. I can find no statement by him on this bill.
Last week, Sens. Mary Landrieu (D-La.) and Joe Manchin (D-W.Va.) introduced another bill doing the same thing, allowing Landrieu (facing an uphill 2014 re-election battle) and Manchin (from a state that loathes the administration) to claim this as "their" idea. Donnelly is not a co-sponsor. I can find no statement by him on this bill.
Landrieu and four other Democrats—Sens. Mark Begich (Alaska), Mark Pryor (Arkansas), Kay Hagan (North Carolina) and Jeanne Shaheen (New Hampshire)—have written Health and Human Services Secretary Kathleen Sebelius, demanding delay of Obamacare deadlines. Like Landrieu, all are on next year's ballot.
Donnelly didn't sign this letter. I can find no statement by him about it.
If Donnelly were running next year, one suspects he'd be on board with Democratic colleagues about to face the voters. It would be impressive were he to join them, anyway.
Moderate style and tone are admirable. Donnelly is genuinely likable. Genuine bipartisan courage and leadership require more. The jury's out on our junior senator.•
__________
Rusthoven, an Indianapolis attorney and graduate of Harvard College and Harvard Law School, was associate counsel to President Reagan. Send comments on this column to ibjedit@ibj.com.
Please enable JavaScript to view this content.