What a difference a name makes.
I must have driven past Sizzling Wok hundreds of times without considering a stop. Every neighborhood has a handful of generically named Asian restaurants. Why bother with this one? (Particularly since it's parked between a Long John Silver and an abandoned bowling alley.)
But when Sizzling Wok morphed into Pho 54 (7280 N. Michigan Road, 298-9001)—without, I learned later, any change in menu—I stopped in. And stopped in again. And will be back.
 
A massive Vietnamese Pancake for lunch could cause you to skip dinner completely. (IBJ Photos/ Aaron P. Bernstein)
Pho 54 serves both Vietnamese and Chinese dishes with an emphasis on healthier options. Vegetarians have plenty to choose from here. On my first visit, solo, I started with a massive Vietnamese Pancake ($6.95), a crescent of deliciousness consisting of a light rice flour pastry loosely packed with shrimp, pork, bean sprout and onion. Accompanied by lettuce, leeks, cucumber, pickled radishes and carrots, plus nuoc cham sauce for dipping, it should have been shared with others. Being alone, though, and having trouble with temptation, I devoured the whole thing.
This left little room for a steaming bowl of Chicken Pho ($7.95). For newcomers, Pho is a Vietnamese staple soup defined by its white rice noodles and flavorful broth. Its meats, seafood or vegetables can change, but always expect a plateful of sprouts, peppers, lemon or lime and greens to add in at your own discretion. Ideally—as it is here—served very hot, its contents can be spooned, chopsticked or both. Hint: Sip the broth first before piling on the garnishes. Second hint: While sriracha is available to add, resist. As orchestrated here, Pho is delicious without it. If you want kick, add peppers.
In Vietnam, Pho is commonly consumed in the morning, but don't wait around for that cultural shift to happen here. It makes for a great lunch, encouraging slowing down to soak in the evocative flavors. Expect to be full long before you get halfway through a bowl. (Take out containers are available for what's left.)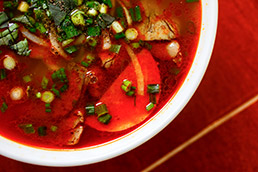 A seemingly bottomless bowl of Pho.
On my second visit, with company, I had every intention of trying the Beef Pho ($7.95) and perhaps some other dishes. I did. But an acquaintance and his son, frequenters of the place, insisted that I flip to the back of the menu and try a banh mi sandwich. He was gone before I could thank him for steering me there, where slices of pork and veggie goodness were packed in crunchy bread. A bargain at double the price, it—and four other variations—are absurdly cheap at $3.25.
Not all excelled. A rather wan batch of General Tso's Chicken (part of a $4.69 lunch special that includes soup, egg roll and rice) was forgotten once we tried the Grilled Chicken ($6.79), a simple but effective combination of marinated chicken and lemongrass. Veggie Spring Egg Roll ($2.49) also transcended, with tiny soy crumbles and carrot beanthread rolled in a light pastry.•
–Lou Harry
__________
Third in a month-long series of reviews of full-flavored restaurants.
Please enable JavaScript to view this content.