After a two-day trip last month to Raleigh, N.C., and San Antonio to look for creative solutions to an old problem, city officials are preparing to take another run at restricting panhandling downtown.

A bipartisan group of city-county councilors is considering an ordinance that would restrict panhandling and street performances within 50 feet of any area where a financial transaction is made, including ATMs, sidewalk cafes, food vendors, parking lot booths and parking meters.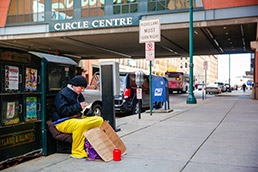 Indianapolis officials say the density of panhandlers downtown has in the last two years kept the city from landing 10 conventions, an economic impact in excess of $6 million. (IBJ photo/Aaron P. Bernstein)
Councilors involved in drafting the proposal also favor restricting panhandling and street performing within 50 feet of areas that are congested with pedestrian traffic, such as crosswalks. Some councilors also want to restrict the activity within a smaller radius of any building entrance or exit.

Two other aspects being considered have less support.

Some councilors are willing to consider requiring panhandlers and street performers to obtain a free permit, as is done in Raleigh. Proponents say that would allow the city to do background checks and, more important, would provide an opportunity to give those in need information on how to deal with homelessness and unemployment.

A more controversial provision—and one that seems to have the least council support—is a stipulation that people can't sit or lie down on downtown sidewalks.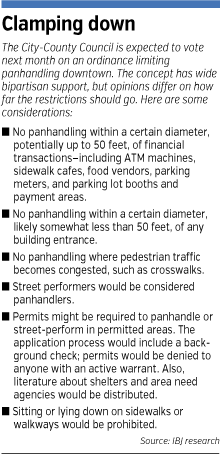 State law already prohibits panhandling after sunset and before sunrise and within 20 feet of ATMs and banks. But the city proposal is much stricter. The state law targets mostly what local officials call "aggressive panhandling," which includes making a verbal plea or touching another person or blocking anyone's path in a walkway.

The city proposal would go after more passive panhandlers—those merely holding signs or shaking cups—and street performers as well. It also greatly broadens the zone where panhandling would be prohibited.

Some downtown leaders don't think street performers should be included in the restrictions, but many city-county councilors say it would be difficult to define what constitutes a legitimate performance.

Painted into a corner

The broad restrictions seem to make panhandling illegal in most of downtown. But City-County Councilor Jeff Miller, one of the sponsors, said the proposal would keep panhandling legal in areas such as parts of Monument Circle and near the Artsgarden.

This summer, Mayor Greg Ballard proposed making it entirely illegal to panhandle in the heart of downtown—the square bordered by South, North, East and West streets.

Miller
The American Civil Liberties Union of Indiana threatened to spearhead legal action against the city for restricting citizens' free speech. The measure then lost the support of many City-County Council Democrats who agreed with the ACLU and said the panhandling boundaries were arbitrary.

The new proposal again has the ACLU of Indiana's attention.

"Any proposed ban would have to be narrowly tailored and structured so that it's not a broad restriction on the freedom of speech," said Executive Director Jane Henegar. "Asking for money and soliciting is protected speech."

After visiting Raleigh and San Antonio, city officials think they have the answers to concerns over an all-out ban.

"It's important that we emphasize that this is a safety issue," said Miller, a Republican who represents part of downtown. "People feel threatened when they're approached in certain areas and especially when they're handling money."

Business interests protected

Safety might be one reason for the restrictions, but it's hard to argue that's the primary reason.

Officials for Visit Indy, the city's tourism marketing arm, and Indianapolis Downtown Inc. have been complaining for years that the density of panhandlers in Indianapolis' compact downtown is hurting commerce.

"We've heard repeatedly from convention and meeting planners that panhandling is a serious problem," said Visit Indy spokesman Chris Gahl. "In the last two years, we've lost 10 meetings worth more than $6 million in visitor spending due largely to the panhandling issue."

Dirk Ebener, CEO of Atlanta-based NuernbergMesse North America, which represents more than 100 trade shows globally, said panhandling is one of two major issues hurting Indianapolis with convention and meeting planners. The other is the dearth of direct flights to and from the city.

"Indianapolis is a beautiful city and it has a lot going for it," Ebener said. "But the panhandling is a problem they need to get a handle on. It's a real black eye for the city."

Sherry Seiwert has been hearing similar complaints from downtown business owners since she took over as president of Indianapolis Downtown Inc. last year.

"Eight out of 10 downtown business leaders site panhandling as a priority problem," Seiwert said. "There's a real concern that the problem is bad enough that it is keeping people from coming downtown to shop, eat or do business."

Seiwert
The issue has reached critical mass, Miller said.

"To have just a few people driving out entire conventions and having such an impact on business is moving to the point of being ridiculous," he said.

The proposed restrictions are not an effort to sweep a certain segment of society under the rug, he added.

"This isn't about brushing poor people aside," Miller said. "We want to help poor people. We want to steer people in need to the resources that will truly help them. These [panhandlers] are scam artists."

Preserving civil liberties

Henegar understands the business concerns, but said they cannot supersede people's constitutional rights.

"We don't think the convention trade or other business interests should be protected at the expense of people's civil liberties," she said.

Attendees on the two-day trip included officials from Visit Indy and Indianapolis Downtown Inc., and City-County Council Democrats Maggie Lewis and Vop Osili and Republican Miller. Lewis is City-County Council president, and Osili and Miller represent districts that include portions of downtown.

Officials from Horizon House, an Indianapolis facility that works to get homeless people back on their feet, also went on the trip.

The proposal is scheduled to be heard by the eight-member City-County Council Rules and Public Policy Committee during a public meeting Nov. 19.

There was still work to do heading into that meeting. City officials hope to get input from the ACLU of Indiana and work out differences between committee members about the no sitting/no lying down provision, permitting process and the inclusion of street performers in the ban.

If the measure passes out of committee, Miller said, the full City-County Council will likely discuss and possibly vote on it at its Dec. 9 meeting.

Miller is hopeful the Rules and Public Policy Committee will pass the proposal by a wide margin.

"It only has to get a majority vote to be heard by the entire council," he said. "But the council will look closely at how much support it had at the committee level before passing it."

Osili said this proposal, unlike the prohibition forwarded by the mayor last summer, has the Democrats' support.

"This is for the good of the city," Osili said. "It exceeds any form of partisanship."•