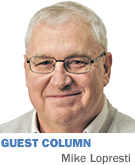 One last Saturday. One last chance to do better. Indiana has known frustration much of this football season, and Purdue has known it even more often. Nothing will quickly cure all that ails either, but one thing can at least ease the pain.
It's old and it's oaken and it's a bucket. And this year, it might as well be full of Tylenol, with all the discomfort it needs to soothe. That's what's good about sticking such a rivalry at the end of the schedule. The meal was lousy? Well, there's always dessert.
So maybe beating Purdue won't make the Hoosiers forget Minnesota's yanking the football from under them in the last seconds, like Lucy used to do to Charlie Brown. Or how the Wisconsin running backs traveled farther than joggers on the Monon Trail.
And maybe beating Indiana won't let the Boilermakers completely get over the 55-24 Homecoming horror movie against Northern Illinois, or how they were triple-crowned 114-7 by Nebraska, Michigan State and Ohio State.
But it would help. If other plans don't work out, at least beat the neighbors. And what puts a smile on an Indiana face faster than a Purdue frown? Or vice versa.
It should be noted that the 89th version of the Old Oaken Bucket game will not exactly draw the same national attention this Saturday as, say, Ohio State-Michigan or Alabama-Auburn. No parking spaces need be saved at Memorial Stadium for the ESPN GameDay trucks.
And yet, this game is never played without pride or urgency or emotion. When you think about it, what is purer motivation than teams who feel bad, and only want to feel better?
It has been that way since the first Bucket game, which was not the most glorious start. That was a 0-0 tie in 1925. Maybe this is what you get when you choose an artifact supposedly once used by a Confederate general. Would it not have been better to come up with something from the winning side?
Since then, each school has taken special delight in ruining the other's weekend, and the apogee of this fraternal malice might have been 1989. Indiana desperately needed a win to clinch bowl eligibility and, most likely, the Heisman for Anthony Thompson.
Alas, Purdue won 15-14, and the postgame chortle of a Boilermaker to the Hoosiers echoes down through the years: "You ain't got no Bucket! You ain't got no bowl game! You ain't got no Heisman! You got nothin'!"
No bowl nor Heisman is on the table this Saturday. But imagine how good it would feel to Kevin Wilson, the Indiana coach who is 0-2 in Bucket games and lately has taken to promising a full evaluation of his defense after so many leaks.
"I'm going to look really hard at what we're doing," he said the other day. "What are we doing with a culture and attitude of our building to play better defense?
"It's my fault because I am the head coach."
And imagine how much it would brighten the landscape for Darrell Hazell, whose first Purdue season has had so many dark Saturdays. "A work in progress," he called this year. "It's going to be a great program. I tell my staff that all the time. Just keep working the process. Don't panic, don't flinch."
Purdue has won 13 of the last 16, but Indiana will be the favorite on paper, by virtue of the home field and better record and more explosive offense. Still, it's never been the Old Paper Bucket.
Many of the numbers suggest the struggle this season has been for both teams. In one corner will be Purdue, with the 111th-rated scoring defense in the land through Nov. 16. In the other corner, Indiana, tied for 114th.
Look at it this way; another 0-0 tie is unlikely.
Neither of these coaches has ever won a Bucket game, but by Saturday night, one will. His will be the program that gets a running start into a postseason of reflection and, so the hope goes, rejuvenation.
The Bucket game does not need high stakes to feel big. For the loser, it is perhaps the unkindest cut of all. For the victor, the winter won't seem quite as cold.•
__________
Lopresti is a lifelong resident of Richmond and a graduate of Ball State University. He was a columnist for USA Today and Gannett newspapers for 31 years; he covered 34 Final Fours, 30 Super Bowls, 32 World Series and 16 Olympics.
 
Please enable JavaScript to view this content.