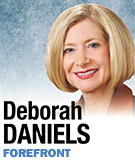 Indiana has a habit of being a bit behind the curve.
In recent years, we have departed from that tradition, moving boldly in education reform, telecommunications reform and economic development. We have been named the fifth-best state to do business, third best in job attraction, and best in the country for international investment.
Now we are poised to undo much of what we have accomplished by introducing House Joint Resolution 6, the "anti-gay marriage" constitutional amendment, in 2014 despite our existing statutory prohibition of gay marriage.
What can my Republican friends be thinking?
If we wanted to undo the job creation advances we have made in recent years, it is hard to think, other than raising taxes significantly, of a better way than to advance this discriminatory amendment.
HJR 6 would outlaw not only marriage between gays, but also any "legal status identical or substantially similar …" That includes civil unions or other contractual arrangements that would grant legal rights to pension benefits, other domestic partner benefits and family visitation in hospitals.
Our biggest employers are strongly opposed to HJR 6: It will make them less competitive in the global marketplace. According to Rob Smith, senior director of corporate responsibility at Eli Lilly and Co., "We are trying to tackle some of the most … complex health challenges known to mankind … and … we have to recruit and retain a diverse work force consisting of the best and brightest from around the world."
Jill Cook, vice president of human resources for Cummins Inc., expressed the same concern, adding that, "We will be reluctant to add [jobs in Indiana] if Indiana is a less-welcoming … place for all of our employees."
She and others, including the Indianapolis chamber, point out that today's working-age population, gay and straight, demands a workplace environment that is welcoming to all—not just those who are heterosexual.
Ironically, Indiana is once again behind the curve.
The bulk of the states that passed "defense of marriage" constitutional amendments did so before 2000. In recent years, several of the states that passed them have repealed them; some have gone so far as to legalize gay marriage.
Many observers expect that the U.S. Supreme Court, which has found unconstitutional the federal Defense of Marriage Act, will soon do the same with state constitutional amendments outlawing gay marriage.
Public opinion has reversed: The Pew Research Center shows a huge swing between 2001 and 2012, from 57 percent/35 percent opposed to gay marriage to 48 percent/44 percent in favor. A Gallup poll in May 2013 found that 53 percent of Americans think gay marriage should be legalized.
And a recent poll in Indiana by the respected Bellweather Research Consulting organization shows that, by 64 percent/43 percent, Hoosiers do not think a constitutional amendment is the right way to deal with gay marriage. Almost 75 percent of Hoosiers believe there should be some legal recognition or rights for gays; and Hoosiers are against HJR 6 by 52 percent/33 percent when told that it would also ban civil unions.
There is much more work to do to make Indiana globally competitive. The gay marriage debate will prevent needed progress by focusing on this contentious and increasingly unpopular issue at the expense of the governor's economic development agenda.
Finally, young and independent voters, who overwhelmingly oppose discrimination against gays, are being driven from the Republican Party by such demonstrations of intolerance.
So tell me once more: Why are we doing this?•
__________
Daniels, a partner at Krieg DeVault LLP, is a former U.S. attorney, assistant U.S. attorney general, and president of the Sagamore Institute. Send comments on this column to ibjedit@ibj.com.
Please enable JavaScript to view this content.