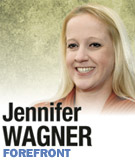 Earlier this year, I wrote for this publication about the rise of a new Hoosier swing voter, women my age who live in the doughnut counties around Indianapolis.
These are the voters who tipped the scales in favor of now-U.S. Sen. Joe Donnelly in 2012. They do not obsess over social issues; to the contrary, they tend to be more liberal on issues like same-sex marriage, reproductive choice and gun control. They are educated moderates who pay attention to candidates over party affiliation.
But a recent article by Richard Florida, renowned professor of urban studies and economics, asserts that voters like these tell only part of the story of those who've fled cities for suburbs.
In "Welcome to Blueburbia," Florida breaks down four places Americans now live: big cities, urban suburbs, middle suburbs and exurbs. Then he takes a closer look at the voting trends in each area:
"Size clearly matters, but the key factor is density. When blogger Dave Troy looked at the 2012 election, he found that 98 percent of the 50 densest counties in the United States voted for Obama, while 98 percent of the most sparsely populated counties voted for Romney.
"He even isolated the precise break point: 'At about 800 people per square mile, people switch from voting primarily Republican to voting primarily Democratic. In other words, below 800 people per square mile, there is a 66-percent chance that you voted Republican. Above 800 people per square mile, there is a 66-percent chance that you voted Democrat.'
"Or, as the economist Justin Wolfers recently put it, 'If you live near other people, you're probably a Democrat; if your neighbors are distant, Republican.'"
The premise of Florida's article is that the suburbs as we once knew them—white families flocking to green lawns, low crime and predictable floor plans—are dead.
An analysis earlier this year found that half of America now lives in 146 counties—out of more than 3,000.
People are returning to cities in search of a different lifestyle. A recent study by Indianapolis Downtown Inc. bears out the new demand.
In the next three years, our city will see an additional 3,500 downtown apartment units come online, increasing the downtown population by roughly 5,300 residents. Yet the study found that growth won't bring the market to an oversaturation point.
I've lived downtown since the early 2000s, back when a handful of residential projects attracted primarily kid-free professionals and empty-nesters.
But we got married, graduated from townhome to house, had two kids, and never once considered leaving the urban environment.
More telling: Last year, my parents, who spent almost three decades in the Meridian Hills home my great-grandparents built in the 1930s, moved to a newer home on the Old Northside. They live five blocks from us and love that they can walk to everything. They used to be moderate Republicans. They now identify as Democrats.
What does all this mean for Indiana politics? Both parties must re-evaluate the way we think about where people live and what swing voters look like and care about.
As Indiana Democrats, the shift likely means we can start talking about issues we've traditionally eschewed because we feared alienating a Southern, conservative base that no longer exists.
The new Democratic base is in cities and the areas immediately surrounding them. Rural areas and exurbs are shrinking, and suburban America is no longer code for "rich, white Republican." It's a brave new world, and with the right candidates, it's a world where forward-thinking Democrats can flourish.•
__________
Wagner is a lifelong Indianapolis resident and founding principal of Mass Ave Public Relations, a local public relations and publicity firm. Send comments on this column to ibjedit@ibj.com.
Please enable JavaScript to view this content.