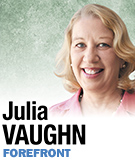 Although voters in Marion County won't cast ballots for City-County elections until 2015, two courts are considering cases that will have a major impact on local elections.
The Indiana Supreme Court will once again get the final say on how City-County Council districts are divided—a vital matter since where the lines fall affects who gets elected and which party controls the council.
And, the U.S. District Court for Southern Indiana will decide if Marion County party bosses will continue to be the only votes that matter in county judicial elections.
The events of the past two years mirror what happened 10 years ago when the state Supreme Court was called in to settle partisan bickering over new maps.
While it is not at all surprising that we find ourselves back at the same place, what is disappointing is that this long, expensive and divisive argument could have been avoided if redistricting were about voters' choosing their representatives instead of being about incumbent politicians trying to gain advantage.
While most agree that the maps drawn by the court in 2003 make sense and have served voters well, the problem with a court-driven redistricting process is that it gives the public no input.
That's why the court should choose one of the maps submitted to the council in the public process conducted in 2012.
I am, of course, partial to the map created by the Common Cause Indiana board because I know it was created in a common-sense way that sought to protect communities of interest and the rights of minority voters while enhancing competition for council elections.
And while it's the Supreme Court's responsibility to finish the job our ultra-partisan council couldn't get done, it's time to make sure this doesn't happen again. A bipartisan team of state legislators from Marion County should sponsor legislation to give the task of local redistricting to a nonpartisan commission of community representatives. A similar system works in Lake County.
While the Indiana Supreme Court is deciding who will run from what districts in 2015, federal Judge Richard L. Young has been asked to decide if Marion County voters will get a real say in county judicial elections.
The American Civil Liberties Union-Indiana and Common Cause Indiana are challenging the county's unique judicial selection process that puts the major party bosses in control, making the public vote a meaningless exercise.
While I understand that the Marion County process was put into place decades ago to ensure this community would have a bipartisan bench, we are no longer a one-party county, so the law has outlived its usefulness.
Instead of guaranteeing political diversity, an undeniably important goal, the major impact has been to deny voters our constitutional right to cast a meaningful vote for Superior Court judge. Voting for judges in Marion County shouldn't be reduced to ratifying the decisions of a handful of partisan honchos.
Our lawsuit has already survived several obstacles, including attempts by the state to have it thrown out, and we look forward to our day in court.
Unfortunately, this issue will not likely be resolved in time for the next round of local elections. And, the court will only answer the question of whether the current system is constitutional; it won't put a new judicial selection process in place.
If the Marion County process is invalidated, state policymakers will decide if voters, or a judicial nominating commission, make these decisions. Either way is a big improvement over the status quo.•
__________
Vaughn is policy director for Common Cause/Indiana, a nonpartisan citizens lobbying organization that works for open, honest and accountable government. Send comments on this column to ibjedit@ibj.com.
Please enable JavaScript to view this content.