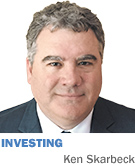 With the stock market up 29 percent year to date, as measured by total return on the S&P 500 index, many observers are raising warning flags that stocks are overvalued, and some even say a market bubble is forming. A review of the evidence, in our opinion, doesn't support their alarm.
Is their rant a case of sour grapes? Is the vocal disbelief in the stock market's ascent emanating from investors who in recent years chose to avoid stocks and instead hide out in bonds, alternative investments, commodities and cash (anything but stocks)? In other words, if the stock market left you in the dust, shout loud that it is all a mirage.
Stocks were clearly cheap in the wake of the credit crisis, yet fearful investors have continued to avoid the stock market stymied by a negative global macro-economic view, political turmoil and the unprecedented Federal Reserve policies. Stocks ignored these exogenous factors and rose based on American corporations' improving balance sheets, rising revenues and cash flows as business recovered from the severe downturn in 2008-2009.
Now naysayers are pointing to news that retail investors have poured more money into stock funds this year than at any time in the last 13 years, lured by record stock prices and stung by losses in bond funds. This statistic plays into the notion that the retail investor is the last to join the party and is a signal of a market top.
Perhaps, except that professional investors, including hedge funds and pension plans, are also underinvested in stocks and are trying to play catch-up.
A more plausible argument for market overvaluation is seen in the Shiller PE (also known as the Cyclically Adjusted Price-Earnings ratio, or CAPE), created by Nobel Prize-winning economist Robert Shiller. This measure is calculated by dividing the S&P 500 index by the average inflation-adjusted earnings from the previous 10 years. The CAPE stands at 25.4 compared against its historic average of 16.5.
The all-time high on the CAPE was 44.2 in December 1999, at the peak of the tech-driven market bubble. So while a CAPE of 25 is a bit frothy, the measure is not shouting bubble.
With some hesitation, we could point out that earnings were abnormally depressed during this 10-year period because of the credit crisis—a devastating event not likely to be repeated anytime soon.
Also, Shiller himself says CAPE should not be used to predict market tops or bottoms. Instead, the measure serves more as an indication of what market returns might be going forward. Reversion to the mean average CAPE of 16.5 would argue that stock returns will be considerably lower in future years.
Jeremy Grantham and his firm GMO are out with their quarterly letter. It is a good read, and concludes that stocks are pricey. However, Grantham figures stocks could work higher for a few years before another significant market setback.
With the caveat that investors should exercise caution following such a magnificent move in stocks, the market fundamentals do not suggest stocks are excessively overpriced. While you shouldn't be pound-the-table bullish, a handful of carefully chosen stocks still offer the best return versus risk profile compared to other investment choices.•
__________
Skarbeck is managing partner of Indianapolis-based Aldebaran Capital LLC, a money-management firm. His column appears every other week. Views expressed are his own. He can be reached at 818-7827 or ken@aldebarancapital.com.
Please enable JavaScript to view this content.