A room of cornstalks might seem like an odd welcoming tableau for "Ice Age Giants," the State Museum's new exhibition about mammoths and mastodons—until you look closer and see the massive bones behind the fence.
These remnants belonged to mammoths and mastodons (more on the difference later), creatures that roamed Indiana in the ancient days before basketball ruled the land. The subtle introduction effectively demonstrates how routine the unearthing of prehistoric bones has become in Indiana—not just in rural parts of the state, but also in Indianapolis.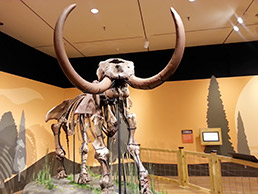 Mastodons and mammoths populate this new exhibition. (Photo courtesy of Indiana State Museum)
From the cornfield, a boardwalk with audio transports visitors into a dig site, most of it for display only, but with a corner for hands-on exploration. Parental patience is a requisite here. Rather than rush the kids along while they are engaged, take time out yourself and lay hands on an actual 10,000-year-old bone, almost nonchalantly attached to the wooden fencing.
As you step down from the boardwalk, an effective push-button presentation plots points on a map where remains have been discovered—and where the State Museum leads the way in unearthing and examining these fascinating finds. In this, the second main area of the exhibition, science—and fun facts—take over. Mammoths and mastodons, we learn, are about as closely related as cats and dogs, with mammoths having closer family ties to today's elephants. Bones take on the color of the soil where they are buried in a kind of multi-thousand-year dye job.
Thanks to interactives, we can hear the difference between the creatures throwing a temper tantrum, singing a love song, or
shouting a warning. And we can appreciate that, while the romantic notion of discovering an intact bone holds sway, that image glosses over the hard work done by scientists, who sometimes have to assemble bones from hundreds of fragments.
And, yes, there are lots of bones, including a 250-pound skull. Plus teeth, lots of them, some included on models with moving jaws that show how they chewed.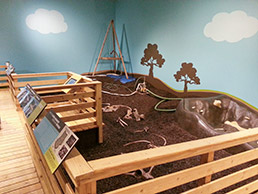 A replica of a bone dig has both hands-on and hands-off sections. (Photo courtesy of Indiana State Museum)
Lest such an exhibit slip by without some disgusting facts, the museum offers grizzly details about how foot pads detach days after death, leaving bones available to carcass scavengers.
The third section, the Hall of Giants, features larger collections of bones, including some assembled into a real bone mount of a mastodon that formerly resided in Allen County. It faces off against the cast of a mammoth from Wisconsin with time-lapse video showing how both were constructed.
Here (photo op alert) you can also grab a spear and, thanks to video, get a sense of what it was like to stand in the path of a charging mammoth.
FYI: There are also some interesting legalities included here as well. For instance, if you discover bones on your property, congratulations, you own them. Just let the Indiana State Museum know about them, OK? As demonstrated here, the folks here know what to do with them.•
__________
This column appears weekly. Send information on upcoming arts and entertainment events to lharry@ibj.com.
Please enable JavaScript to view this content.