I have a special fondness for restaurants where you can stand outside the front door, look in any direction, and not spy another eatery. It often indicates a desire to matter. A pioneering spirit. And free and easy parking.
Such is the case with the new Shoefly Public House (122 E. 22nd St., 283-5007), from whose entrance you can't even see another storefront of any kind. Not that it's that far off the beaten path—a few blocks north of 16th Street and just east of Meridian doesn't qualify as a road less traveled. But it certainly doesn't face much culinary competition.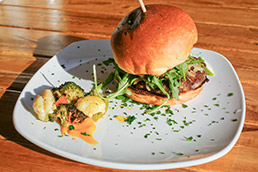 Don't expect to find a breaded tenderloin in The Hoosier Sandwich. This one has pork, apple, smoked gouda and more. (IBJ Photo/ Aaron P. Bernstein)
Shoefly is a neighborhood restaurant in a neighborhood that certainly could use one. And the roomy space, comfortable service (don't be surprised to see torn jeans), family-centric photos on the walls, and kid menu (including gnocchi and pulled roast chicken instead of the usual chicken fingers and burgers) indicate a willingness to cater to the social, with or without children.
I had mixed feelings about the Cuban Pretzel Flatbread ($9). High marks for the toppings—Cuban pork, capocollo, mozzarella and well-proportioned accents of pickle and grain mustard. But I'm not convinced that the novelty of the pretzel base succeeds. If you've ever tasted a Philly soft pretzel that had a hardened, cracker-thin piece as part of its surface area, you know what I'm talking about.
Acceptable, but not an improvement over traditional topping carriers. I would have rather opted for the Pat's Philly Pretzels appetizer ($8), consisting of nuggets and bier cheese dip.
Another alternative, if you don't mind decision making, is to get creative with Yucca, Sweet Potato or Potato Fries ($3/$6), available with choices of six tosses and four sauces beyond the usual ketchup.
Highlights from my two visits included the cheese-centric Tomato & Basil Nachos ($9) in which mozzarella, Provolone, asiago and parmesan blended with attractive splashes of balsamic. The Hoosier ($10) presented a well-rounded sandwich crafted from a pork patty, slices of apple, arugula, smoked gouda and just enough hickory Dijon to grab your attention.
A Whatever Burger ($8+) should appease DIYers, starting with beef, lettuce, tomato and onion and inviting patrons to add whatever is available in the kitchen. The Bier Battered Walleye offers substantial planks of tastefully enclosed fish over acceptable fries, but I wish I had the option of dressing up the latter in the aforementioned tosses.
The obligatory closer here is the Shoefly Pie ($6)—which you'd expect to be good given its role in the name of this joint. The name—usually spelled shoofly—comes from the way the sweetness attracts flies ("Shoo, fly," get it?), although none were present here. What was present was a heavy dessert, thick with molasses. It's served with a ginger gelato, which helped balance its intensity.
Other dessert options include Brownie Batter Wontons ($5), Toasted Apple Cake ($6) and Griddled Poundcake ($7). Open until 11, this could become a post-theater stop for north-siders heading out of downtown. Hope the neighbors don't mind.•
–Lou Harry
__________
First in a month-long series of new-in-2013 restaurants that we somehow missed in previous months.
Please enable JavaScript to view this content.