A contingent of Indiana University alums, fresh out of school, spent 24 hours in early November blitzing social media to drive their friends to a page on the fundraising website Fundly.
The group—a council of business graduates charged with keeping recent grads connected to their alma mater—wanted $1,000 for a scholarship. More than 50 people chipped in almost $1,800 by the end of the day.
The amount was a fraction compared with the more than $300 million IU raised last year.

IU Foundation's Daniel Smith says crowd funding is part of a broad plan.
But the effort, which targeted donors 35 and younger, was successful enough that fundraising officials are trying to better understand how the alumni group pulled off the campaign and how the school can do the same on a larger scale. University and foundation leaders throughout the state are doing the same.
They know universities already have massive online and social media presences they can wield to their advantages by driving hype on Facebook and Twitter during fundraisers.
The online tools could be critical to future fundraising strategies. Even though young alumni usually can't donate much during their first years after graduation, schools will need them a decade or two from now when they have more money to give.
The demographic is a difficult one to crack.
"They're trying to get grounded in their own careers, and they're burdened by debt," said Andrew Welling, a May 2012 IU graduate and member of the Kelley School of Business' Young Alumni Council in Indianapolis, which organized the Fundly campaign.
"They just spent four to six years at the university. … If you have $40,000 or $50,000 in debt, the last thing you want to do is give more money."
Fundraising officials admit recent graduates often don't see much incentive to give back, with the class of 2012 in Indiana walking away with almost $28,000 in average debt.
"It's a concern for everyone in higher ed, given the economics of coming to college," said Daniel Smith, president of the IU Foundation.
In general, millennials have become a popular research topic in the philanthropy world as the generation has entered adulthood.
"Culturally, it's a group that's a little tough to tie down," said Amy Noah, vice president of development at Purdue University.
Two things are common among the age group, according to fundraising consultant Derrick Feldmann, CEO of Achieve Guidance in Indianapolis.
Twenty- and 30-somethings prefer to communicate through modern technology. And they would much rather have a friend ask them to donate than a faceless university representative.
Crowd funding, like what Fundly or Kickstarter do, fills both demands, said Feldmann, whose firm prepares an annual study called "The Millennials Impact." Fundraisers can set up campaigns on one of the websites, then reach out to their friends on social media.
Indiana's universities need to think more about how to use technology to their benefits if they're going to keep their recent grads engaged, he said.
Online giving to education grew 17.9 percent in 2012, faster than any other sector, according to a February report by fundraising software developer Blackbaud.
Schools strategize
Officials at the state's three largest universities—IU, Purdue and Ball State—all say they need to use crowd funding more as a way to keep recent alumni involved with school philanthropy.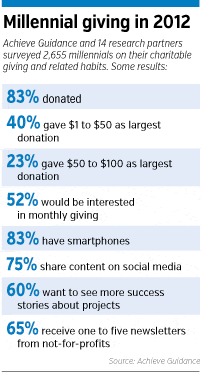 They just don't know how or to what extent.
Smith said crowd funding folds into a broader marketing and communications plan for the IU Foundation that includes more traditional phone calls and direct mail.
"There's just kind of this interwoven layer of ways in which we try to touch our alumni," he said.
Purdue has no formal plan for online fundraising, but the university is looking into the medium, Noah said. One possibility, she said, could be that Purdue sets up its own crowd funding website.
"In the last six months, we've really kind of started to execute some plans and roll some things out," she said. "Certainly, [crowd funding] is something we'll take a look at."
Ball State is in a similar situation. Fundraisers know they should do more with social media and crowd funding, but aren't yet, said Lola Mauer, the university's director of annual giving.
"I am very anxious to do that and move in that direction," Mauer said. "It's definitely something we plan to do. We're putting a lot of things in place."
Frenzied fundraising
Twitter and Facebook are key tools, especially with universities and their thousands of social-media-minded students.
IU Bloomington's main Twitter account has almost 84,000 followers, and its Facebook account 195,000 "likes."
Purdue, which is fragmented among several accounts on Twitter, has tens of thousands of people following its collection of handles, and the university has 136,000 "likes" on Facebook.
Much smaller Ball State boasts almost 11,000 followers on Twitter and 57,000 "likes" on Facebook.
Those taking advantage of crowd funding typically begin by setting up an online campaign. They then tweet a link or post it on Facebook, then let social media take over.
That is essentially how the young-alumni group at IU's business school raised money for its scholarship, Welling said.
A university's horde of social media followers is critical to any fundraising because it drives interest, said Ted Grossnickle, founder of Greenwood fundraising consultant Johnson Grossnickle and Associates.
"If you get a batch of people excited about something, it works all day long with re-tweets," Grossnickle said. "… It causes more young people to say, 'OK, I'll participate in that.'"
Millennials or millionaires?
Online fundraising is best used as a quick-hit way to raise small amounts of money while hype lasts.
"Crowd funding feels more like modern-day alumni giving that's turbo-charged," Grossnickle said.
The intense blitzes are OK because recent graduates tend to prefer short campaigns, Ball State's Mauer said.
"They do not respond well to, 'Hi guys, it's March 2, and we're trying to get everybody to give by Dec. 31,'" she said. "They're like 'Uh, yeah, right.'"
However, universities historically raise large amounts of money over long periods. Capital campaigns last years.
Even over shorter periods, they raise vast amounts. IU, Purdue and Ball State collectively received more than $500 million in donations in 2012.
Young alumni account for a very small portion of the giving.
Thirteen percent of donors to IU last year were within 10 years after graduation. Their average gift was less than half the overall average—$118 compared with $276. And more than one-third of all giving to the university was gifts of more than $1 million.
Despite the smaller gifts, Smith described the younger crowd's giving as "not trivial."
"We're just trying to keep our newest grads close to us," he said. "We know if somebody gives their first gift early, they tend to stick with it and give higher amounts later."•
Please enable JavaScript to view this content.