Dish Network CEO Joe Clayton wanted a live kangaroo to accompany him on stage at the 2012 Consumer Electronics Show, in Las Vegas. What better way to introduce the satellite TV provider's latest digital video recorder, known as The Hopper?

It was up to Dave Arland and his Carmel-based public relations/marketing firm, Arland Communications, to hire kangaroos and wranglers and convince the Venetian Hotel to bend its rule forbidding live animals.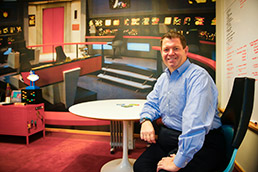 Dave Arland's longtime love for "Star Trek" is on large-scale display on his Carmel office wall. (IBJ photo/Aaron P. Bernstein)
"It was a brilliant idea to stoke the PR fires during the industry's most visible day. At the press event … we lit up Twitter and Facebook," company President Dave Arland recalled.

Arland Communications' niche among local PR/marketing firms is about as unusual as pairing a CEO with a jumping joey.

It's the only such firm in central Indiana focused entirely on the $200 billion-plus annual consumer electronics market. The firm provides the panoply of PR/marketing, event management and video production and—if necessary—kangaroo procurement.

The firm's location in Carmel is notable considering many of its clients are based far away, including Dish, JVC, LG Electronics, Panasonic and the Advanced Television Systems Committee, an international group that develops voluntary standards for digital TV.

A more recent client is the Museum of Science Fiction, in Washington, D.C. Arland comes by this gig honestly, as a longtime "Star Trek" fan. He somehow managed to get on the set for the filming of the 1986 movie "Star Trek IV: The Voyage Home," when the Klingon ship with Captain Kirk aboard crashes into San Francisco Bay and the whales are returned to Earth.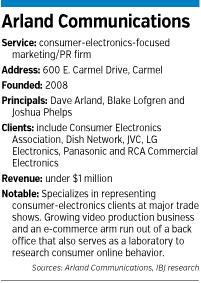 Among local clients are Indianapolis-based RCA Commercial Electronics, Technicolor and the Custom Electronic Design and Installation Association, or CEDIA.

In a few weeks Arland, 50, will head back to Las Vegas to represent many of those clients at a CES show.

"This will be my 22nd time that I've gone to the Vegas [show], which makes for an interesting holiday season," he said.

In his younger days, Arland was press secretary to Mayor Bill Hudnut. But he spent the bulk of his career in marketing roles at Thomson Consumer Electronics, which operated its North American unit in Carmel and designed RCA, GE and Proscan televisions and accessories.

There, Arland watched the evolution of the consumer electronics business, including the digital TV revolution. He understands the latest technology, said Dish boss Clayton, himself a former Thomson executive. "He's a unique character. It's a reflection of why his firm is unique … If he's not the best, he's among the best."

Forced career move

Starting a business was not among Arland's skill sets or ambitions, however.

In the mid-2000s, Thomson was winding down its local operations. The headquarters back in Paris wanted to shift its focus to broadcast services.

"I had to lay off most of the people who worked for me. Eventually, I got the layoff notice," Arland recalled.

"When that happens, you just feel gut-punched. … I rather enjoyed getting a paycheck every two weeks."

Arland figured he'd have to look for another corporate job. Industry friends suggested he take his encyclopedic knowledge of consumer electronics to start his own firm.

"What's the worst that could happen? You could fail miserably and then you could get a corporate job."

He took his severance and set up an office and started calling on his years of relationships in the business. It sounds easy now, but, he says, "It's a momentous moment, standing at that cliff and saying, 'It's sink or swim.'"

Slowly, his business took off. It's expanded into areas such as video production and e-commerce. During the annual CES show, Arland's staff swells to seven people, in part by the use of local experts including videographer Eric Poland. Arland Communications became the official video arm of industry trade publication TWICE (This Week in Consumer Electronics), generating a number of interviews with industry players at the CES show.

"I prefer to hire local talent, which can come in like a strike force," Arland said.

E-commerce lessons

One of the more unusual aspects of Arland's marketing/PR shop is an e-commerce business (getmyelectronics.com), which ships antennae, remote controls, portable TVs and other gadgets for clients including a Korean electronics firm. On one given day this fall, account executive Blake Lofgren shipped 22 items consumers had ordered.

The revenue from e-commerce isn't a lot, but the value is in the insights Arland and his team have learned. Lofgren has gotten an earful of what consumers like and don't like and their expectations for customer service.

"I saw this as an opportunity to learn not only how real consumers are ordering things online, but I want us to diversify our business and become even closer to the consumer," Arland said.

"We've learned about consumer behavior, about how people shop. We've also applied this as a living laboratory for online advertising."

With much of the marketing now done through Internet channels, Arland recently hired Joshua Phelps, a recent Butler University graduate. That's also bolstered the firm's ability to manage website marketing for some of its clients.

Of course, the biggest annual event is the Consumer Electronics Show, which by some measures is the largest trade show annually. The sheer size of the event is intimidating and the competition for attention among electronics firms is ferocious.

Arland and Lofgren have years of experience navigating the chaos and in helping the trade press understand the latest gadgets being hawked by clients.

"Dave knows the show. He knows the space," Clayton said.

Clayton said Arland immediately understood the value of renaming the Dish DVR, which company engineers wanted to call the "VIP813P", and the value of marketing it as The Hopper.

As for those engineers, "They're not laughing now," Clayton said.•