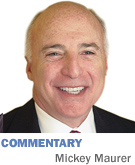 We have to put a stop to Santa Claus.
Now that Congress has discovered it can reach consensus on the federal budget, it should turn to a more serious matter—the bagman with the white beard and red suit, a dangerous threat to our way of life. Forget Al Qaida. Send the drones to the North Pole.
Better watch out. Claus is engaged in illegal surveillance. He is probably an agent of the CIA or the FBI. Snowden has probably outed him to the KGB.
He knows when we've been sleeping.
He knows when we're awake.
He knows if we've been bad or good,
So let's ice him for goodness sake.
Perhaps he is an international spy with the NSA. Rearrange the first three letters in Santa's name. Who is he trying to fool anyway? He has a dossier on each one of us.
Santa is making a list,
Checkin' it twice,
Gonna find out
Who's naughty and nice.
And speaking of naughty, he's been fooling around on Mrs. Claus. Last night he was spotted kissing mommy underneath the mistletoe.
He spoke not a word, but went straight to his work,
And filled all the stockings;
Then turned on mom—what a jerk.
I feel sorry for poor Mrs. Claus up there at the North Pole. She has no idea what's going on in your living room by the fire. Ho Ho Ho, my foot.
Has anybody ever investigated the working conditions under which he pushes his elves? They work day and night making toys for that guy's sack. And he gives them no credit. Quick—give me the name of one elf. I'm sure there are issues of worker's comp and overtime. Maybe those elves can sign up for Obamacare. Wait—no sense in adding to their woes.
Claus is a lousy role model for our children. He is chubby and plump, kind of like the typical Hoosier.
He has a broad face and a little round belly
That shakes when he laughs like a bowl full of jelly.
He smokes that stump of a pipe he has caught in his teeth
And the smoke encircles his head like a wreath.
And what's he smoking? The guy drives a flying sleigh and plays with elves. Duh!
Santa also consumes way too much eggnog. Last Christmas he ran Grandma over with a reindeer.
When they found her Christmas mornin'
At the scene of the attack
There were hoof prints on her forehead
And incriminatin' Claus marks on her back.
We have to ground that sleigh. He's flying around up there in complete defiance of FAA regulations. He has no helmet, no seatbelt and no navigation lights. He is guided by an animal's glowing red nose. Maybe Rudolph also had a little too much eggnog.
He has defied the breaking-and-entering laws of every country on the planet. Did you give that guy permission to go down your chimney? A polite knock at the front door would suit me fine, thank you very much.
Don't go out walking on Christmas Eve. That fresh winter air will be polluted with Donner and Blitzen's methane gas and you're liable to get splattered in the face with reindeer poop. Santa does not carry a scooper.
The women in my office insist that Santa Claus is a woman with sexual orientation problems—a cross-dresser. They informed me that a man does not exist who can lead a sleigh around the world without getting lost. If that's the case, I'm surprised he comes to Indiana at all. Our Tea Party Legislature wants to make it quite clear that the marriage to Mrs. Claus would not be recognized here.
Happy Christmas to all, and to all a good night.•
__________
Maurer is a shareholder in IBJ Corp., which owns Indianapolis Business Journal.  His column appears every other week. To comment on this column, send e-mail to mmaurer@ibj.com.
Please enable JavaScript to view this content.