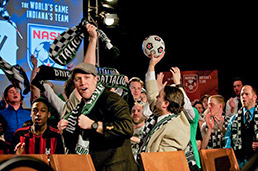 Brickyard Battalion members celebrated in January when plans for the new team were announced at a press conference at the JW Marriott. (IBJ file photo)
Fueled by enthusiasm from a boisterous group of central Indiana soccer fanatics calling themselves the Brickyard Battalion, local real estate executive Ersal Ozdemir in late 2012 and early 2013 began laying ground work to launch a North American Soccer League franchise in Indianapolis.
By April, Ozdemir had hired Peter Wilt, a former president for Major League Soccer's Chicago Fire, and named the team the Indy Eleven. The numerical name references the number of players soccer teams place on the field, but also recalls Indiana's 11th Regiment in the Civil War, which posted significant contributions under the command of Hoosier-born Col. Lew Wallace.
Ozdemir, president of Keystone Realty Group, secured a deal to play the first couple of seasons at the track and soccer stadium at IUPUI, but said he hoped to build an 8,000- to 10,000-seat soccer stadium downtown within the next four years.
Ozdemir raised eyebrows in November when his company became one of four finalists to develop the former General Motors Stamping Plant on the southwest edge of downtown. A city official said an element of Ozdemir's plan could accommodate a soccer stadium.
Enthusiasm for the team, which will begin play in April, remained strong through 2013, with the club selling out its supply of 7,000 season tickets and then starting a waiting list. The Eleven also signed big sponsors, including a three-year deal with Honda Manufacturing of Indiana and Central Indiana Honda Dealers.
As the year closed, Eleven officials announced their first player signings and a deal to have home and select away games televised on WNDY-TV Channel 23, the sister station of WISH-TV Channel 8.