As usual, I have to start with a caveat: While 2013 offered plenty of reasons to love my job, it also reminded me that I'm one person. Until cloning is perfected, no matter how many A&E events I attend (well over 125 this year by rough count, not counting dozens of films) there are going to be many I miss. As you'll see—or won't see—from the list below, most of what I miss are one-day or single-weekend concerts (I focus more on previewing those in my weekly A&E e-blast).
So with that in mind, here, in no particular order, is the best of what I attended in central Indiana in the year that was.
The Eiteljorg Museum had a banner year that included the popular "Guitars" exhibition and an easily accessible showing of National Geographic photos. It also embraced more challenging work at "Red," its biennial contemporary art exhibition. I find that, in my reviews, I overuse the word "compelling." Here, it certainly applies to the work of five juried artists. Unlike many of the done-and-gone shows on my best list, it's still running (through Feb. 2).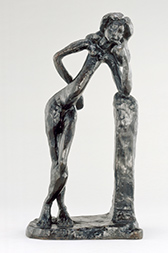 Henri Matisse's "The Serpentine"
Also still catchable is "Matisse: Life in Color" at the Indianapolis Museum of Art (through Jan. 12). "I do not paint things, I paint only the difference between things" said Matisse, and while such cryptic words may seem like obfuscation coming from anyone else, they make sense when you visit the more than 100 works in this show to be treasured. As if that weren't enough, the IMA also staged a coup by landing "Ai Weiwei: According to What?" in the spring.
The Children's Museum of Indianapolis brought in a strong interactive "Avatar" exhibition (a show I appreciated far more than I did the film), but the jewel in its crown this year was the reinvention of its Playscape area. Smartly crafted—and relatively video-screen-free—the new, airy space made me look forward to having grandchildren (No, I'm not breaking any news here…just looking forward to that someday).
Dance Kaleidoscope opened its 13/14 season with "New Dimensions," where David Hochoy unselfishly allowed Butler University dancers onto its program, shared the choreographic spotlight with two other accomplished dance makers, and brought the house down by turning inner tubes into joyfully unpredictable dance partners for his accomplished troupe. And it wouldn't be an IBJ A&E Year in Review without my heaping praise on the Indianapolis City Ballet's "Evening with the Stars" benefit performance, introducing Indy audiences to some of the best dancers in the world.
Dance Kaleidoscope's "New Dimensions"
These days, comedies and musicals may be an easier sell, but the Indiana Repertory Theatre's "The Crucible" and "The Whipping Man" reminded audiences of the distinct pleasures of impeccably staged intensity. Meanwhile, the Phoenix Theatre demonstrated how less can be more with its smart, low-key production of "4000 Miles." And a quartet of top-notch actors in a tiny Bloomington theater space made it impossible to look away from the toxic characters in a first-rate "Who's Afraid of Virginia Wolfe?"
That's not to slight musicals and comedies. The Broadway in Indianapolis series had an unexpected highlight with the national tour of "American Idiot," Beef & Boards made the epic "Les Miserables" an intimate treat, and Bobdirex turned "Spamalot" into the feel-silly hit of the summer.
It's easy to forget that the Indianapolis Symphony Orchestra offers new programs nearly every week throughout the year. And I'm sure if I had the chance to get to more, the ISO would have even more picks on this list. Two that stand out in 2013, though, are the unexpected evening of musical improvisation honchoed by composer William Bolcom in June and the slightly crazed, John Waters-narrated concert version of "Hairspray" in January.
"Hairspray" at ISO
A parade of high-profile performers graced the stage at the Palladium this year, but none shined brighter for me than theater legend Barbara Cook, who shared the stage with Michael Feinstein in a spring concert. At the other end of the fame spectrum, nothing beats an evening listening to (and handicapping) the contestants in the annual Great American Songbook High School Vocal Competition.
Thanks to a boost from the Indianapolis International Film Festival, the Heartland Film Festival and the IMAX at the Indiana State Museum, the little-documentary-that-could, "Medora," has had a longer-than-most shelf-life for reality films. Concerning the small Indiana town and its losing basketball team, "Medora" will be reaching even wider audiences thanks to an upcoming spot on PBS's "Independent Lens" series.
As the year ends, I'm thankful not only to the arts creators here, but also to readers who have enthusiastically supported critical arts coverage at IBJ. Keep letting us know what you think of what we do. I look forward to reading your messages, conversing in lobbies and galleries, and, I hope, seeing you on an upcoming IBJ A&E Road Trip (look for announcements of more exciting trips very soon here and at www.ibj.com/arts).•
__________
This column appears weekly. Send information on upcoming arts and entertainment events to lharry@ibj.com.
Please enable JavaScript to view this content.