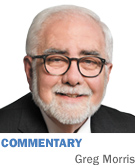 It's finally here. This year's ending and the New Year is at hand. It would be easy to go off on a negative rant about how lousy things were in 2013 and how next year promises to be more of the same. Just tune in to the national news. If the national news media is good at anything, it excels at letting us all know how depressed we should feel. However, I'm choosing not to participate in all that negative stuff right now.
The good feelings started for me a little late this year, but I finally got into the Christmas spirit a few days before the holiday. I thought, "Why wait until it's over? Let's get with the program." So I did, and the holidays haven't lost their luster yet!
It all started when my wife and I went to one of the Indianapolis Children's Choir's brilliant performances of "Angels Sing." That was just what I needed to jolt me out of my cynical mood and get the positive juices flowing again. Watching these talented young people perform is good food for the soul.
I've written about ICC before, but it bears repeating: These aspiring singers represent everything that is right about our young people today. If you can free yourself to be in the moment and let their youthful enthusiasm in, you can be transformed back to an easier time.
I wouldn't want to go back, but I'd like to remember more often some of the good life lessons I learned at a younger age. This time of year seems to slow us down just long enough to block out all the loud and useless noise created and hurled at us on a daily basis. When you clear away the clutter, it frees up enough time to concentrate on those things that are really important in life.
So with those positive thoughts in mind, I'd like to think 2014 is shaping up to be a promising year. Forget about the antics in Washington. Here in the heartland, real life is going on and that's what I plan to concentrate on. Here are a few of my top priorities for the new year.
• Work on achieving a healthier lifestyle. I started with this priority because we all know that without good health we don't have anything. We also know that prevention usually produces better results than relying on treatment of symptoms in the health care system. Yet, we ignore these basic and well-known facts and put off positive lifestyle changes for another day. Sometimes, you wait too long, and then it's too late. The best time to make a change is always now.
My simple action plan is to make better fresh food choices more often, work on better portion control, and add more "get up and move" activities. That's it. Nothing fancy, but very doable and healthy.
• Work to be a better, more caring and compassionate person—better husband, better father, better manager and better not-for-profit board member.
My day job takes more focus each and every year, and I have an active role on at least a half-dozen advisory and not-for-profit boards. As a result, on occasion I haven't met my own quality standards with regard to achieving excellence in all my endeavors—at work and on the home front. That's going to change in 2014. Better focus and time management is in order.
• Work on the never ending task of improving financial security. This is another simple action plan that got a jump-start in 2013. Continue to increase savings and invest wisely for the future. I'm done chasing the next biggest thing—house, car and the like. More control of personal finances gives one more choices as life progresses.
So, that's my story and I'm sticking to it. Maybe you see some of these priorities rising to the top of your list also.
Here's one other important point. You notice I started each item with the word work. That was by design. This stuff doesn't just happen on its own. Nobody does it for you. You have to work at it, and you have to work hard. That's what makes it great.
So, as we close the books on another year, I wish you and yours good health and much success in 2014. Happy New Year!•
__________
Morris is publisher of IBJ. His column appears every other week. To comment on this column, send e-mail to gmorris@ibj.com.
Please enable JavaScript to view this content.