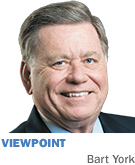 When CityWay won the top award at the Indy Chamber's Monumental Awards program recently, I couldn't help but think back a few years, to when CityWay was first proposed. Back then, some people said the project, originally known as North of South, was destined to fail. Time and time again, the harshest criticism was that the project was "awfully ambitious."
You know the drill. It's the same kind of criticism people leveled against projects like Indy's Super Bowl bid, the Monon Trail and Circle Centre, to name a few.
For that reason, the CityWay announcement also made me think back to last year, when the YMCA of Greater Indianapolis announced its goal of making Indianapolis one of the nation's 10 healthiest cities by 2025. Then, too, people launched some of the same old criticism: "It's awfully ambitious."
Fortunately, those of us involved in the Y's efforts believe it's what we must be to tackle the problem of poor health in our city.
And we have seen what this city can do when it pulls together, focuses on a big goal, and works hard to make it happen. We know that our Top 10 by 2025 initiative can succeed if Indianapolis leaders, businesses, organizations and residents collaborate, build consensus and pool resources.
That's not to say we think this will be easy, or that things will turn around quickly. We know the realties we're dealing with. Thanks to obesity, diabetes, smoking, lack of physical activity, poor nutrition and so on, Indianapolis ranks among the unhealthiest metro areas in the nation. In fact, a 2012 American College of Sports Medicine report ranked the metro area 45th out of 50 major cities for health and wellness.
Recent reports could suggest things are getting worse. As IBJ reporter J.K. Wall pointed out in August, on a statewide basis, the percentage of adults classified as obese increased to 31.4 percent (up from 27.5 percent five years ago) and the incidence of diabetes rose to 10.9 percent (up from 8.3 percent five years ago).
Still, progress is being made. The city's smoking ban and development of more pedestrian- and bike-friendly neighborhoods certainly help, as do efforts to plant more community gardens and eliminate food deserts. As Wall also pointed out, Indiana businesses rate well above average for having policies focused on increasing wellness (apparently, they're tired of paying more per worker on health care than the rest of the country).
A few months ago, the YMCA of Greater Indianapolis opened Avondale Meadows YMCA in one of the city's most economically challenged areas. The Y is also proceeding with plans for the Pike YMCA on the northwest side, and for a center in CityWay.
These new facilities will provide tools for healthier lives to neighborhoods that have not had such resources.
But these efforts won't be enough. If this city is to dramatically improve the health of its residents, we must all focus resources on the problem.
Working together, we can push this message of health and wellness into new areas of the city—those areas most in need—and open the doors of self-managed good health to thousands of people who otherwise have no options. We can eliminate unhealthy habits and encourage more active lifestyles. We can reduce obesity, diabetes, respiratory illness and more.
Is this "awfully ambitious"? Yes, just like the award-winning CityWay, the Super Bowl, and so on. In other words, like just about everything that manages to make a difference in the life of this city.•
__________
York is executive vice president at Skillman and a member of the YMCA of Greater Indianapolis board of directors. Send comments on this column to ibjedit@ibj.com.
Please enable JavaScript to view this content.