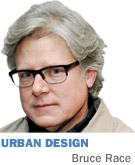 Indianapolis is gearing up for a complete overhaul of the Marion County Comprehensive Plan. This is a big task, and not just for Department of Metropolitan Development Director Adam Thies and his talented staff, but for the public, too. It is important we all pay attention to the process, and make sure our voices are heard and that plans reflect our values and aspirations.
Over the next two years, we are updating our comprehensive plan and gathering all of our disparate community and neighborhood plans into one framework. It is long overdue. Stitching together neighborhood and district plans is only a start.
In Indiana, a comprehensive plan has to contain at least: "a statement of objectives for the future development of the jurisdiction; a statement of policy for the land use development of the jurisdiction; and a statement of policy for the development of public ways, public places, public lands, public structures, and public utilities." Indiana zoning law includes plenty of details and requires planning commissions to "pay reasonable regard to responsible development and growth."
The Marion County Comprehensive Plan was last updated in 2004. It is a "thin" document that relies primarily on a system of township land use maps. It lacks vision, powerful and compelling stories, and graphic representations of the future. Even more worrisome, it lacks the kinds of strategies we need as the core county in a thriving, growing region.
The 2004 comprehensive plan includes three 2025 regional growth scenarios. The scenarios assumed Marion County would have 14,000-24,000 more developed acres than in 2000. This is a drop in the bucket compared to the rapidly suburbanizing counties ringing Marion. Furthermore, it is top-down projection. It is passive. We need a strategy for Marion County that leverages new investment to make our neighborhoods and downtown livable and competitive.
A strategic planning approach should help us focus on the big moves that will make us thrive, provide citizen access and interaction in the planning process regarding those important issues, and define a set of actions and metrics to monitor progress.
Big moves. In my December column, I discussed the need for a 2040 regional planning framework that connects the region. Marion County is the hub of the region and needs to focus on leveraging transit investments, job creation and catalyst projects.
• Transit: Primary transit routes and corridors can be transformative for Indianapolis. There has been plenty of visioning and thinking that demonstrates what transit corridors and transit-oriented development can look like. The comprehensive plan has to identify transit-oriented development locations and include the necessary land use and infrastructure actions to make it happen.
• Jobs: The employment projections for the region indicate a spreading out of nonresidential development. However, Indy has been the traditional center for employment with high multiplier effects. Included are jobs that create jobs, such as health care, biotech, pharmaceutical, finance and advanced manufacturing. The comprehensive plan needs to support growth of the primary economic functions of Marion County.
• Catalyst projects: A better-quality city will require strategic catalyst developments that set the tone and attract additional private investment. We are very good at supporting new investment one project at a time. The comprehensive plan needs to provide a vision for how these projects aggregate into beautiful and competitive addresses, not just buildings.
Citizen engagement. The process needs to be transparent and inclusive. Because of the scope of the comprehensive plan overhaul, this is a once-in-a-generation occasion for community discussion about our priorities.
• Inclusive: The planning process needs to be accessible, and not just by social media. There needs to be real access and discussion for leaders, residents and businesses owners.
• Interactive: An interactive process should allow us to bring our personal perspectives and blend those into a larger community conversation about the future.
• Informed: Bringing good information to the planning process can help us deal with issues that can be emotionally charged or divisive. Timely and targeted analysis that informs issues identified by the community is necessary.
Measuring progress. The 2004 comprehensive plan has very general implementation actions without priorities or commitment to funding. The comprehensive plan should include more specific actions that implement planning policies.
• Clear objectives: The comprehensive plan objectives need to be clearly stated and actionable.
• Metrics: The comprehensive plan's objectives and policies need to show us what success looks like. We need to know when we have accomplished our objectives or are making progress.
• Outcomes­: The comprehensive plan needs to identify outcomes. What does a successful 21st century Indianapolis look like? Who will live here? What kinds of jobs will we have? How much park space will we have?
Most important, we have to be a city ready to learn. That includes the City-County Council, residents and business leadership. Building a city is an ongoing process, and we have to invest in a culture of learning and constant improvement.•
__________
Bruce Race, FAIA, FAICP, is an award-winning architect and urban planner, owner of RaceStudio, and recipient of the Indiana Sagamore Planning Award. He lives in a historic Indianapolis neighborhood and teaches urban design at Ball State University's Downtown Indianapolis Center. His column appears monthly. He can be reached at br@racestudio.com.
Please enable JavaScript to view this content.