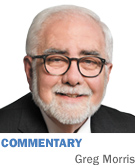 There's nothing like a weather emergency to test a company's plan to conduct business if you can't physically get into the office. The recent snowstorm and dangerous subzero wind-chill temperatures brought that to my attention front and center.
Like many companies, our offices were closed the Monday after the snowstorm that deposited a foot or more of the (wet) white stuff. If the wind-chill temperatures hadn't been 40 below for the next couple of days, it wouldn't have been as big a deal. But it was a big deal, and it was just flat dangerous to be outside.
On Monday, we asked everyone to do what work they could from home. On Tuesday, we assembled a very small staff at the office. Nobody was pressured to come in and only those who felt comfortable driving safely to the office and back home made the trek in that day. I think about 10 or 11 of us made it in for part of the day.
We had close to a normal day with an excellent showing on Wednesday. I know more than a few of us had an hour-and-a-half, or longer, commute that day. There was no way to avoid it, and I gave myself a good talking to on having patience when I started out. However, by the time I arrived at the office, I was highly stressed. So, I sat in my car for a few minutes to chill out a bit so I didn't go in acting like a jerk right out of the gate. (You can read my column from last Nov. 4 about why being a jerk in the office isn't a good idea.)
The silver lining is that this weather event was an excellent test of our remote-access capabilities. Our backup plans worked almost flawlessly. A lot of work was accomplished even though most folks weren't in the office for a couple of days.
Companywide communication was good. We didn't skip a beat in providing up-to-the-minute news and information on our website, tablets and mobile devices and via our email newsletters. We were also lucky. We have the advantage that we don't publish daily newspapers, and the storm hit at a time that still allowed us to deliver our newspapers on schedule.
Even though things went well this time, I don't think you can ever stop analyzing your systems and backup plans. I can tell you if the storm had hit on a Tuesday and we had to deal with the aftermath on Wednesday and Thursday, instead of the Sunday-Tuesday scenario we experienced, things would not have gone as smoothly.
So, if that's the case, what needs to be done to better prepare for the next unknown event? We'll be working on that, along with opportunities for service.
Overall, I was very pleased with the ability of our staff to get the job done under less-than-ideal conditions.
Since I've been talking about executing backup plans, I want to take this opportunity to congratulate and thank government leadership and public safety resources for a job well done. Gov. Pence was on the front line and communicating necessary information from a statewide perspective. An Indiana National Guard team was activated and sent to help out in the especially hard-hit northern part of the state.
Mayor Ballard, Public Safety Director Riggs and staffs were visible and communicative from the start. Area county and city officials were on it and available to the media. I know there is always frustration when the power goes out, but Indianapolis Power & Light Vice President Greg Fennig was right there next to the mayor updating progress on outages and taking questions. Everybody was out front doing their best to keep residents safe and with power.
And as all these officials constantly pointed out when speaking, the real heroes are those folks out in the field braving those dangerous conditions to clear a road; respond to a fire, accident or criminal activity; repair downed power lines or a blown transformer; find warm shelter for people and animals; and a hundred other tasks that had to be miserable given the conditions. If you know one of these heroes, don't take their efforts for granted and please thank them for their service.
Tough times can bring out the best in people. That seemed to be the case during this latest weather event. Let's try to remember that help-your-neighbor (co-worker, fellow human being) attitude all year long.•
__________
Morris is publisher of IBJ. His column appears every other week. To comment on this column, send email to gmorris@ibj.com.
Please enable JavaScript to view this content.