FAST BioMedical thought it was on to something big—a new kidney test for hospital patients with a potential market of $1 billion.
But last year, FAST stumbled onto an even bigger opportunity—a breakthrough test relevant for virtually all major-surgery patients and most critical-care patients. That market could be several billion dollars.

Muldoon
That gives FAST CEO Joe Muldoon hope that his company can raise as much as $25 million in venture capital this year and next—even though life sciences companies like his are out of favor with investors.
"We couldn't have timed this worse from a capital markets perspective," Muldoon said. "The bar has gotten so high on life sciences to get funding. It's almost impossible to describe how much the environment has changed."
FAST is one of a handful of central Indiana companies that have survived a five-year drought in life sciences funding.
Nationally, venture capital investments into life sciences firms totaled $4.9 billion during the first nine months of 2013, which is down 30 percent from the same period in 2008, according to data from Thomson Reuters and PricewaterhouseCoopers. In Indiana, life sciences firms raised $21 million during the first nine months of the year, far lower than any year since 2003.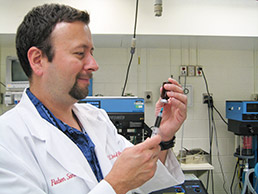 Dr. Ruben Sandoval, a FAST BioMedical research consultant, prepares a dose of FAST's imaging agent. The agent measures blood plasma levels, a promising diagnostic test. (Photo courtesy of FAST BioMedical)
To keep kicking, Indiana's most promising companies have used a variety of strategies to keep their technologies moving forward.
Companies such as ImmuneWorks and EndGenitor Technologies Inc. found a partner to fund their work. EndGenitor, which is using stem cells to develop new therapies, has been funded by Bloomington-based Cook Group Inc.
ImmuneWorks, which is developing a drug for a rare lung disease, received funding from United Therapeutics Corp. until it finished its Phase 1 clinical trial in late 2012. United then decided to end the relationship to focus on its existing products.
United made an option payment that funded ImmuneWorks through 2013. And now, ImmuneWorks is hitting the road to raise as much as $20 million—or to find a strategic partner—to take its drug through the next stages of testing. ImmuneWorks thinks it can get enough funding to start a Phase 2 clinical trial in the third quarter.
ImmuneWorks CEO Wade Lange is heartened by the fact that more than 40 percent of all initial public offerings in 2013 were life sciences companies—meaning investors who have backed the sector before now have more cash in their pockets.
"Certainly the attitude is better, now, more positive than it was a couple years ago," Lange said. He said he's scheduled to talk to some venture capitalists at the JP Morgan Healthcare Conference in San Francisco later this month.
West Lafayette-based Endocyte has also turned to a partner for funding, even after it raised more than $90 million in venture capital and another $145 million through public stock offerings.
New-Jersey-based drug giant Merck & Co. Inc. spent $58 million last year to get Endocyte's ovarian cancer drug vintafolide ready for launch. Company officials expect to receive a decision on the drug from European regulators this month, with a launch possible before year's end.
Other companies, such as SonarMed Inc. and Nico Neuro Corp., have made it far enough to put products on the market, bringing in some revenue. But both companies are also still raising investment capital to help them build up their commercial teams and keep improving their technology.
"The environment remains challenging and for the foreseeable future looks like it will. It's really the survival of only the very fittest and heartiest souls," said David Johnson, CEO of BioCrossroads, an Indianapolis-based life sciences development group, which has invested in FAST BioMedical, ImmuneWorks and SonarMed.
It is taking far longer than entrepreneurs and investors anticipated for life sciences to get a product to market and, even after that, to scale up to the point of profitability, added David Mann, managing director of Carmel-based venture capital firm Spring Mill Venture Partners. It has an investment in SonarMed, which has developed an airway-monitoring system for surgery patients.
"The time lines in venture capital have extended, and we're no exception," Mann said.
Those longer time lines might be OK if the potential rewards were also going up. But, if anything, they've been going down.
Obamacare and federal sequestration have pinched reimbursement at hospitals, prompting them to scrutinize any new product before agreeing to let its doctors start using it. Private health insurers have been more hesitant about paying high prices for new drugs and devices—unless those products are true breakthroughs that help them save money elsewhere.
As there has been less money searching out deals in the life-sciences space, investors have been able to wait later to invest. That has left early-stage companies—firms that hope to get as far along as FAST, Endocyte and ImmuneWorks—gasping for cash.
"It's easier to raise $20 million now than it is to raise two," said Kristin Jones, executive director of the Indiana Health Industry Forum.
Plum position?
FAST has already raised more than $16 million, mostly from a series of local venture firms and angel investors.
That's enough to get it through its Phase 2 clinical trial, which should be completed by the second quarter.
Assuming that data is positive, Muldoon thinks it will put FAST in a plum position—a company with breakthrough technology, with patents and clinical data in hand.
"It's been so hard to scrape and fight and raise money and move on. But once you do it, you're really in some rare air," he said. "And people notice."
FAST, which stands for Filtration Assessment and Surveillance Technology, is a firm that has only four full-time employees and eight part-time employees. It outsources everything it can.
FAST's basic technology consists of two parts: a specially designed drug that is injected into patients, and a machine, called a spectrofloimeter, which can measure the level of FAST's drug in a patient's body.
FAST's system can determine in about three hours how well a patient's kidneys are clearing its fluid. Similar tests using existing technology typically take days or weeks to generate a result.
The faster turnaround is significant for doctors taking care of hospital patients, who can't wait weeks to know whether a patient's kidneys are working, or how well.
Earlier this year, Muldoon was having a beer with a cardiac surgeon, explaining the technology behind his company. The surgeon stopped him mid-sentence.
"Wait a minute," he said. "You can measure plasma?"
"Yeah," Muldoon said, "but that's not important. The important thing is …"
But the surgeon cut him off. Measuring plasma, which is the fluid component of blood, is critical to determining how much blood a patient has. And knowing a patient's blood volume is key to understanding whether they have the proper amount of fluid in their system.
Medical research from just the past five years has shown that, contrary to previous thinking, over-hydrating a patient can be as detrimental as under-hydrating. Over-hydrated patients might not be getting enough oxygen to their organs or might not have medications get to the intended tissues.
So measuring plasma volume is critical to speeding up recovery times while also reducing complications and readmissions.
That's good for patients' health, but also good for hospitals' finances. That's because the federal Medicare program and some private health insurers are increasingly paying hospitals bonuses to keep costs lower while keeping quality higher. One way to do that is to shorten the length of hospital stays by helping patients recover faster.
"It was a grace of God thing," Muldoon said of the plasma insight. "This is good timing for us."•
Please enable JavaScript to view this content.