The number of newly formed Indiana companies slumped in 2013, the first such dip since the recession, but the small drop could actually be a positive sign for the economy.

Established companies have more job openings than a few years ago, meaning workers have less incentive to start their own businesses, as thousands did when the economy tumbled.

Entrepreneurial expert David Millard said a robust stock market hurt investment in riskier categories, like startups.
Most newly created firms have one employee. Thousands of laid-off Hoosiers incorporated their own businesses and began working out of their homes as free-lancers or consultants after the recession began in 2008.

"People were doing it out of necessity because they weren't finding work elsewhere," said Jared Konczal, a senior analyst in policy and research at the Ewing Marion Kauffman Foundation, a not-for-profit for entrepreneurship and education in Kansas City, Mo.

The number of companies that filed with the Indiana Secretary of State's Office increased almost 20 percent in 2010. Startups gained more traction in 2011 and 2012 before the number finally slipped in 2013, data reviewed by IBJ shows.

Would-be entrepreneurs don't have the same incentive to start their own companies as they had when the economy hit rock bottom.

Indiana's job market, while still not as good as it was in the mid-2000s, is better than it was in 2008 or 2009, when the number of startups spiked.

The state's unemployment rate was 7.3 percent in November—much higher than the 4 percent to 5 percent throughout 2007, but a lot lower than the 10.8-percent peak in 2008.

"When our jobs increase and people are hiring, that's immediate money into an individual's pocket, versus starting a business," said Julie Grice, executive director of the Business Ownership Initiative, a not-for-profit supporting small businesses.

"I think there's kind of a natural correlation—increased jobs correlates with decreased entrepreneurship."

Despite the drop, Grice has seen "tremendous startup activity."

Her program tripled its clients in 2013—albeit, a lot of the growth is due to increased marketing and awareness, she said.

Indeed, more businesses incorporated in Indiana last year than before the recession, with almost 40,000 filing with the Secretary of State's Office in 2013. That was up from 32,700 in 2007, according to the data.

'Jobless entrepreneurship'

People like Denise Herd are why there are more startups today than before the recession.

The marketer lost her job in 2008, and prospects for new work were grim.

"When I lost my job," Herd said, "I called my parents and said, 'Hey I lost my job.' And my dad said, 'I guess now you'll actually start your own business.'"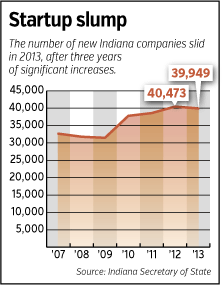 She listened. She and a partner started the marketing firm H2H Group, which Herd now manages alone as Herd Strategies LLC. She remains the lone employee of the business, except for a handful of contract workers.

The Kauffman Foundation in a 2011 report referred to Herd's situation as "jobless entrepreneurship."

The concept offers a mix of pros and cons.

One big negative is business owners often don't know whether they will collect a personal income their first few years.

Herd experienced the uncertainty. She carries a paycheck from 2010 as a token of her beginning.

"I told my partner, 'You cash your check. I'll hold mine,'" she said. "When you're starting a business, you don't have a lot of resources."

Few companies ever grow beyond a single person. Only about one in four companies established in Indiana has employees, according to the most recent U.S. Census figures.

But some of those one-person firms could grow into a major corporation with hundreds of employees.

"Although a large number of small businesses struggled and failed in the Great Recession, many new businesses that ultimately will be very successful may have been created," Robert Fairlie, a University of California economist, wrote in the summer 2013 issue of the Journal of Economics and Management Strategy.

A 2009 study found 57 percent of Fortune 500 companies at the time began during recessions or sluggish markets, Fairlie noted in his report.

Fewer of those companies have started in more recent years, though, as the unemployment rate has dropped, according to Kauffman Foundation's research.

Funding challenges

It's not just the job market that has deterred some startups, said David Millard, chairman of the corporate department at law firm Barnes & Thornburg in Indianapolis.

Entrepreneurs struggle with obtaining investments and loans that help them get their businesses off the ground, Millard said.

Total private investments were down in the first three quarters of 2013 in Indiana, with $20 million in funding that companies publicly disclosed, according to PricewaterhouseCoopers.

Companies here pulled in $62 million over that same period in 2012. That, too, was down from $179 million in 2011, when ExactTarget Inc. and Angie's List Inc. grabbed major infusions before going public.

Not helping the funding situation, investment firms favor later-stage companies more than they used to because the deals are less risky. Individual angel investors saw that shift and followed suit, Millard said.

Strong stock market performance in 2013 also discouraged investments in startups deemed a higher risk, he said. The S&P 500 index had its best year since 1997, rising almost 30 percent last year.

Friends and families haven't been any more willing to lend or invest. Mom-and-pop establishments such as restaurants and stores, especially, struggled with funding. However, a few areas, such as information technology startups, are an exception and are still snagging investments, he added.

One of the most common sources for startup funding—home equity loans—remains a challenge years after the housing market collapse.

"It's hard to point at it and say that's the one, but when you look at all of those things," you can see why Indiana had fewer startups in 2013, he said.•