Local restaurateur Martha Hoover plans to take her Napolese chain national with help from Simon Property Group Inc.

Hoover, 59, who just opened the Napolese at The Fashion Mall seven months ago, said she's pursuing a national expansion with Simon as part of her business plan to add 20 restaurants outside of Indianapolis by 2020.

No deals have been signed yet, as the two sides are in early stages of conversations and aren't revealing details. Rolling out Napolese nationwide could pay off for both Hoover and Simon—which is always looking for traffic-generating and profitable tenants for its malls.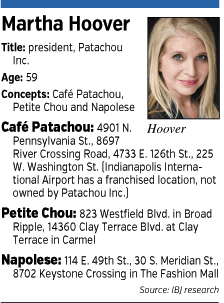 "Food is becoming a very important anchor for all these developers," she said. "As a result, it's natural for us to have a conversation about being in other Simon malls."

The Fashion Mall location is Hoover's third Napolese. She launched the first in 2011 at 114 E. 49th St., followed by one downtown at 30 S. Meridian St.

Hoover is a local restaurant institution. She opened her first restaurant, a Café Patachou, in 1989 and has grown the brand to include four locations.

The last one opened in 2006 upon the completion of Simon's new downtown headquarters at 225 W. Washington St. Her relationship with the world's largest mall developer had begun.

Simon spokesman Les Morris acknowledged that the publicly traded company wants to build its relationship with Hoover. Café Patachou's performance at Simon's headquarters has been a "home run," while the Napolese at The Fashion Mall has "exceeded our expectations," he said.

"Martha is a fantastic operator and her restaurants in our properties have done great," Morris said. "We'd like to do more business with Martha, absolutely."

And why not, given Simon's lease deals often enable the company to profit more from tenants that perform exceptionally well. The company is one of the few landlords that still levy percentage-based rents.

A tenant like Napolese typically pays a base rent. But if the restaurant exceeds a sales benchmark set by Simon, it pays more in rent based on sales.

"It's a great way to profit or gain from a tenant's success," said Steve Delaney, a retail broker at Sitehawk Retail Real Estate.

Hoover's plans to open 20 more restaurants within six years might include additional Café Patachou locations. But the main focus is on Napolese because upscale pizza is easier to duplicate than her other menus, Hoover said.

Hoover and Simon spoke for two years before construction of her restaurant at The Fashion Mall began, Hoover said. Of the three Napolese locations, it receives the most foot traffic, but not by a wide margin, she said.

"It's been very successful right out of the gate," Hoover said. "It was a known concept by a known restaurant company, so we didn't need to go in building brand recognition."

Simon hopes it can duplicate that success at other mall locations. Local real estate brokers think it can.

As big-box retailers find it tougher to justify hundreds of thousands of square feet, restaurants are replacing them as anchors.

Case in point is the former Nordstrom space at Circle Centre mall downtown. Simon has been unable to fill it with another department store since Nordstrom left in July 2011.

Simon instead is in discussions with restaurant concepts including Bonefish Grill; Bobby's Burger Palace, a restaurant chain developed by celebrity chef Bobby Flay; and Yard House, a craft-beer paradise.

"That's just a sign of the times," Delaney said. "And the restaurant industry has changed. It's become more sophisticated."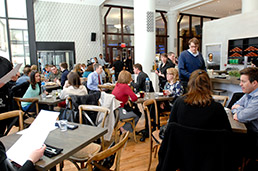 Martha Hoover opened the downtown Napolese (above) in March 2013, before launching at The Fashion Mall in June. More could be in the works for other Simon locations. (IBJ file photo)
Simon isn't the first developer to come calling on Hoover. Broker Gary Perel of Newmark Knight Frank Halakar isn't surprised.

"It's a great concept," he said of Napolese. "And I think Simon in general is trying to build a tenant base that it can transport to other similar-type properties."

It's a concept Hoover goes to great lengths to protect. A local pizza war broke out in October when Hoover sued Mohey Osman, the owner of newcomer Crust Pizzeria Napoletana, claiming he ripped off her pizzeria's entire look. Crust opened in September at 12505 Old Meridian St.

Hoover's lawsuit in Marion Superior Court charged that the look of Crust's logo, menu, industrial-style seating, and general design and setup of its bar and wine rack were among the similarities likely to imply to customers that there's an association between Crust and Napolese.

The two ultimately reached an out-of-court settlement in which Osman agreed to change some things involving his restaurant's appearance.

Hoover has come a long way since opening her first restaurant 25 years ago, particularly considering she had no experience in the food industry.

The former attorney in the Marion County prosecutor's Sex Crimes Division nonetheless struck a chord with from-scratch cooking that emphasized fresh, farm-to-table ingredients before the concept was chic.

Her restaurant holdings also include two Petite Chou locations, one in Broad Ripple and one at Clay Terrace in Carmel.

"We've always done well in neighborhoods and urban environments," Hoover said. "Now we've shown we can do well in an upscale shopping environment."•