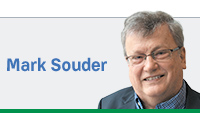 It would be easy to miss the significance of the seven Indiana House Republicans all supporting the 2013 budget deal. The GOP conference was hardly unanimous. The 169-62 Republican split in favor of the deal showed 73-percent support siding with Speaker John Boehner and budget negotiator Paul Ryan.
This approximate division has been there all along, but two things had avoided such a public split previously: 1. The internal guidelines that worked as an odd sort of unit rule; unless a bill could pass with Republican support only, the GOP leadership would not bring it to a vote. And, 2. It requires 218 to elect a speaker.
In both cases, it means that, with 232 Republicans, when all are present and voting, there can be 14 defections, not 62.
So what caused the new boldness of Boehner in challenging the points that held him hostage? My successor in Congress, Marlin Stutzman, had the misfortune of telling the truth in a bumbling way. The House Republicans indeed had no plan or any idea of what they hoped to achieve with the government shutdown.
Unfortunately, Stutzman's statement was at a moment all America was paying attention, and was more an "admission" on behalf of all House Republicans as opposed to being "stupid" in a conventional sense.
In 1995, when the government shut down, Republicans had the momentum, Clinton had to run again, and the Senate was in flux. While that was true in 2011, all those factors were not there in 2013. There was zero chance of success of any kind, so the blowback has been fierce.
In my 16 years in Congress, our Indiana delegation was seldom unanimous on a key divided vote. John Meyers, his successor, Ed Pease, and Steve Buyer were our left flank. Dan Burton was to the right and left of me on any given fight. John Hostetler, Mike Sodrel and often David McIntosh and Chris Chocola were to my right.
These distinctions are obviously pretty small since we were all very conservative. But on a vote like this, it is inconceivable that we would have had unanimity. In fact, McIntosh and Chocola publicly opposed it.
The defeats of Richard Mourdock and Tony Bennett, plus the negative response to the shutdown, have obviously affected Indiana Republican leaders. Gov. Mike Pence and Sen. Dan Coats are both strong social conservatives, but both project softer images and demonstrate understanding of the process of trading to move your goals forward.
Congressmen Larry Bucshon and Todd Young have already fought off direct Tea Party opposition. Susan Brooks and Todd Rokita were not considered the most conservative candidates in their first campaigns. Luke Messer also was portrayed as the establishment choice.
None are moderates and most are very conservative, but not on the far-right flank. It became apparent in Jackie Walorski's 2010 campaign that she was toning down her rhetoric. Had she not, she likely would have been defeated in a primary.
Stutzman's vote was the most unexpected. He has been a Tea Party favorite who seemed focused on challenging Coats in a primary. His tacking toward a more moderate position suggests something deeper is happening in Indiana politics.
The voters who supported the Tea Party are still very conservative, but the supporters, as opposed to the leaders, seem to be seeking elected officials who are less divisive in their rhetoric and more successful with results.
This isn't a return to the politics of Lugar but more a confirmation of the traditional conservative politics of Coats and Pence.•
__________
Souder, a former business owner and Republican representative of the 4th Congressional District, is a political commentator living in Fort Wayne. Send comments to [email protected].
Please enable JavaScript to view this content.