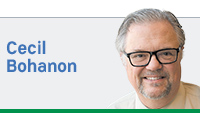 Free-market economists are skeptical of government programs designed to promote economic development.
Note that skeptical is not the same as dismissive or cynical. As Adam Smith pointed out, proper government is essential to prosperity but, "Little else is requisite to carry a state to the highest degree of opulence from the lowest barbarism, but peace, easy taxes and a tolerable administration of justice: all the rest being brought about by the natural course of things."
Of course, political entrepreneurs often propose government doing more to promote economic development. Development funds, targeted incentives and special favors are central to most state and local economic development policies.
Smith was especially skeptical of government attempts to target industries for public funds: "The statesman, who should attempt to direct private people in what manner they ought to employ their capitals, would not only load himself with a most unnecessary attention, but assume an authority which could safely be trusted, not only to no single person, but to no council or senate whatever, and which would nowhere be so dangerous as in the hands of a man who had folly and presumption enough to fancy himself fit to exercise it."
I recently had the pleasure of attending an Indiana economic outlook luncheon featuring a presentation by my colleague and friend Mike Hicks of Ball State University's Center for Economic and Business Research. The keynote speaker was former Rolls-Royce executive and current president and CEO of Conexus Indiana, Steve Dwyer.
Conexus is an industry-led initiative that, to the best of this author's knowledge, receives no direct state funding.
I was intrigued when Dwyer argued that a skilled work force was more important to high-tech manufacturing than firm-level tax incentives.
Dwyer made the following case: Indiana continues to be a manufacturing-intensive state. It is competitive in a number of areas of advanced manufacturing and logistics. Although employment in manufacturing has been in steady decline for at least 40 years, there are persistent shortages of high-skilled workers in U.S. manufacturing and logistics. If Indiana can supply a steady stream of high-skilled workers, this will attract, nurture and sustain high-tech manufacturing and logistics.
Dwyer said Indiana schools, both secondary and post-secondary, can and should work with high-tech firms to provide a steady stream of graduates with the skills for advanced manufacturing and logistics. This will ensure Indiana has the high-paying, secure, middle-class jobs.
He went on to outline how Conexus is partnering with manufacturing and logistics firms with high schools, junior colleges and universities to pursue this vision.
As stated at the outset, skeptical is not the same as dismissive or cynical. Surely some state-sanctioned efforts that go beyond "peace, easy taxes and a tolerable administration of justice" promote economic development. Public infrastructure comes to mind, as does a well-functioning state-supported system of education. Smith noted as much in other parts of "Wealth of Nations."
For a coalition of prominent industries to work with educators to make graduates job-ready seems a long way from "directing private people in what manner they ought to employ their capitals."
Yet caution and public frugality are in order. Public infrastructure dollars spent at the behest of a business group preclude those dollars' being spent for other uses.
Moreover, the best-intentioned partnerships between business and government can easily morph into crony capitalism that chokes off new industries and emerging sources of growth.
Nevertheless, a cursory examination of Conexus does not reveal hard subsidies, picking winners or a large bureaucracy that is taxing the public purse. Perhaps Indiana is evolving a workable model of state economic development.•
__________
Bohanon is an economics professor at Ball State University. Send comments to ibjedit@ibj.com.
Please enable JavaScript to view this content.