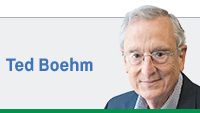 Mayor Ballard proposes to create a judicial center that would bring the dispersed offices of the criminal courts, prosecutor, public defender and perhaps other agencies together with the county jail in one facility at a location to be determined, and free up the jail site for development.
Few dispute that it is desirable to have these interacting functions in one place, assuming it is accessible by public transportation adequate for the many citizens who need to be there, many with limited resources. The problem, of course, is the cost of a new facility.
The City-County Building opened more than 50 years ago. At that time, Marion County had fewer than half the current number of trial judges, and far fewer magistrates and commissioners who also conduct court proceedings.
The building was designed to allow secure means of transporting inmates from the main jail to the criminal courtrooms. This included a tunnel under Washington Street accessing a secure dedicated elevator that ran directly to the few courts originally designed for criminal trials.
Over the years, new courtrooms were constructed on several floors of the building's 25-story tower, and courtrooms originally intended for civil trials were taken over by criminal courts.
We now have trials conducted in various parts of the building remote from the court wing. Many of these are suitable for civil trials, but have no access from the dedicated elevator.
In short, the facilities for criminal courtrooms are woefully inadequate, and have been so for a long time.
More than 10 years ago, a task force of the Indianapolis Bar Association attempted to generate public support to replace our outdated and unsafe courtrooms. The task force pointed to several problems.
Notably, inmates are now transported in groups from the jail tunnel to the courtrooms on the same elevators used by the general public. So we have small children, jurors, witnesses, victims, news media, lawyers and who knows who else all in the same elevators and hallways as those accused of crimes, many quite violent.
Lawyers familiar with criminal and domestic relations cases know that emotions sometimes run amok in the courtroom. Yet some courtrooms are so small that the parties and the public are seated within a few feet of each other. Trials in such close quarters raise concerns of potential witness intimidation as well as presenting a safety issue.
A combined jail/court/office facility offers efficiencies that will to some extent offset its cost, and redeveloping the jails' sites from their lowest and worst uses should also help.
Perhaps the strongest financial case for proceeding now is the current historically low cost of borrowing money. Whether directly paid by the owner as interest or buried in lease or other payments to a private financier over time, the cost of financing a major capital asset over many years is a substantial portion of the entire cost of the project. Locking in current rates should be a major saving as we pay for the facility over time.
Sooner or later, we will see a new justice center. As far as I know, we have not had many serious incidents of violent attempted escape, abduction of a child, or hostage-taking. But sooner or later, we will be asking ourselves who let this situation continue.
We all need to look in the mirror for the answer to that one.•
__________
Boehm is a retired Indiana Supreme Court justice who previously held senior corporate legal positions and helped launch amateur sports initiatives in Indianapolis. Send comments to ibjedit@ibj.com.
Please enable JavaScript to view this content.