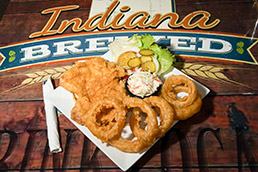 Onion rings don't require an upcharge at Tick Tock Lounge. (IBJ photo/Eric Learned)
While restaurants, like people, tend to gravitate toward one another, others are outliers. These islands of eating—usually taverns—primarily serve customers within walking (or stumbling) distance. For most, the expectations aren't high and neither is the amount of attention focused on them.
Occasionally, the kitchen offerings at these drinkeries rise above the serviceable. I'll happily accept an invitation, for instance, to join friends at The Workingman's Friend for burgers, or warm myself over a bowl of the title dish at John's Famous Stew. And I'd hoped that, with some recent sprucing up, the food at Tick Tock Lounge (2602 E. 10th St., 634-8625) would be worth touting.
On the plus side, Tick Tock has an upgraded beer menu, cleaned-up interior, and is mercifully free of blaring TVs or blasting music. If you are so disposed, Tick Tock infuses its own vodka and prides itself on its signature Bloody Marys, but it doesn't try to over chi-chi its menu to try to make you forget it's a neighborhood bar.
On the downside, nothing we sampled from the lunch menu stood out enough to warrant a special trip. A Hot Winger Dip appetizer ($6.99) looked promisingly different but the slightly spicy chicken strips and hot cheese were undercut by limp house-fried tortilla chips. A heavy-on-the breading Breaded Tenderloin ($7.99) was more successful than the overly dry Chicken Sandwich (6.99). Helping matters: No upcharge for replacing fries with onion rings or tater tots.
On the meat side, a Philly Steak Sandwich ($7.99) ambitiously opted for chunks of steak instead of the traditional shaved variety. And my bad for ordering a single Hamburger ($6.99) instead of the double ($7.99), since the latter would have been in better balance with its bun.
Desserts? None available on our visits … although, on the right night, bacon-infused vodka might have served that purpose just fine.•
__________
Last in a month-long series of theme-less restaurant reviews.
Please enable JavaScript to view this content.