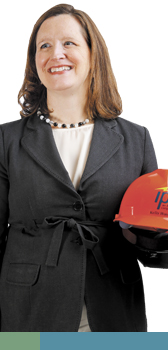 (IBJ Photo/Aaron P. Bernstein)
Academic game plan: Huntington went to Massachusetts Institute of Technology for undergraduate work, "surprising my parents, who couldn't believe I went to a school without a good football team." She redeemed herself by getting her MBA from Northwestern University.

Tween years: In between schools, she worked in investment banking and private equity. "It was a world I knew nothing about before I entered," she said. "It's a very fast-paced environment that puts a lot of value on analytics and getting up to speed on industries. For me, personally, they weren't the right fit. Some people are driven by transactions—they like going from one deal to the next. I find it more rewarding to build value over time with one company."

Business-minded: Giving up a full-time career to go back to school was, she said, a tough choice. But it was the right one. After an internship at John Deere (where she learned about compact utility tractors ("Not something I knew about before, but a great learning experience"), she eyed D.C., where her fiancé was finishing law school. There, she zeroed in on IPL parent AES Corp., headquartered in Arlington, Va.
AGE 38
Hometown:
technically, Portsmouth, Va. ("But with my father in the Navy, I grew up all over the place, including Italy.")
Family: husband, Greg
Energy boom: "I found a great, fast-paced, global company, worked in a variety of financial and related roles on a lot of projects, and got to travel around the world." About eight years into her tenure, the chief financial officer position opened at IPL. In addition to being a move up and a chance to get to know the regulation side of the business and be closer to operations, it was a chance to be part of a community. "D.C. is great," she said, "but it's a revolving door." Arriving in 2011, she was bumped up to president in 2013.

Board choices: Huntington picked each of her board seats for a different reason. Indianapolis Neighborhood Housing Partnership demonstrates a commitment to serving basic needs of the less fortunate. The Indianapolis Zoo has strong ties to IPL and is convenient for a mother of young children. And Women's Fund of Central Indiana supports women and girls in the community, opening her up, she said, "to a wonderful network."•