For many eateries, soup is an afterthought … something that can be whipped up early and kept simmering through the day, available as an upsell but not pushed as a menu priority. All too often, in my experience, salt seems to be the main ingredient.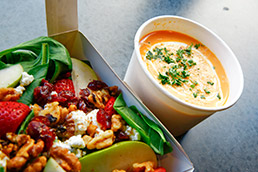 Hints of nutmeg help boost a cup of Butternut Squash soup at Soupremacy. (IBJ photo/Aaron P. Bernstein)
Soupremacy (7 E. Market St., 423-0780), taking over the former home of Teapots & Treasures just off Monument Circle, is something else altogether. In a space whose country store décor raises its appeal above other tiny downtown lunch spots—and makes it seem like the Potbelly adjunct that it is—Soupremacy offers a sextet of soups ($3.49/$4.99/$6.90) on any given day, plus Charlie & Barney's chili ($3.79/$5.49/$7.59) and a tight selection of salads ($3.49/$6.49).
On the greenery front, we found satisfaction in the Endless Summer salad, packed with pear slices, strawberries, baby spinach and Indiana goat cheese in a strawberry vinaigrette. When we unpacked the Kerouac Blues salad, it was absent the promised avocado to go with its Romaine hearts, cucumber, bacon and crumbled blue cheese. But when this was brought to the attention of the friendly, crowded-behind-the-counter staff, we not only got an ample supply but were given a mini cheesecake muffin as recompense. Success on both the salad-making and customer-service fronts.
On to the soup: On multiple visits, we found that hints of nutmeg helped the creamy Butternut Squash transcend. The Lentil appeared thin (hardly the "hearty" stated on the rotating menu board), but rosemary oil helped make the broth flavorful to the last spoonful. And the Chicken & Noodles, filled with handmade shell pasta rather than traditional flat noodles, warmed up a cold day without being particularly memorable.
All are served with fresh bread—ask for the seeded semolina. If you are an aggressive dipper and going for takeout, you can pick up a day-old loaf at the Jimmy John's around the corner with your spare change.
A trio of 6 oz. soups can be had for $6.25, a recommendation to the indecisive or those who like to graze. Warning: Counter-and-stool space is limited and there are no tables, which won't be a problem once the weather makes dining on the steps of Monument Circle an option. In more frigid months, know that you might be taking lunch back to the office … or popping in at Potbelly to find eating space.•
Please enable JavaScript to view this content.