Ossip Optometry plans to open a flagship store in a funky building off 96th Street in Fishers, just around the corner from where it's putting its new headquarters.
Fishers Town Council signed off Monday on an economic development deal that calls for the eye-care chain to move its central office from Fort Harrison to Crosspoint Business Park and to establish an optometry center at 7864 Crosspoint Commons—a long-vacant building that once housed a jewelry store and a restaurant.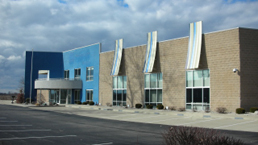 Ossip will remodel this building at 7864 Crosspoint Commons that once housed a jewelry store and restaurant. (IBJ file photo)
In exchange for a two-year tax abatement and some waived development fees, Ossip said it would spend more than $3 million on improvements between the two locations. It plans to nearly double its Fishers presence by 2018, adding a total of 59 jobs.
Expected to open this year, the Ossip Crosspoint Clinic will replace two existing offices: Ossip's 15-employee Fishers clinic and its eight-worker Castleton Eye Care. As the new facility grows, another 19 positions are planned.
Ossip plans to move its 46 headquarters workers into their new digs at 9795 Crosspoint Blvd. this spring. The company also promised to add 40 more jobs with the same $28-an-hour average wage by 2018.
Sister firm Ossip Family Real Estate LLC has an option on that 41,000-square-foot building, which has two tenants that will stay put. Ossip's offices can grow into about 35,000 square feet of space.
The company has already found a buyer for its existing headquarters building at Fort Harrison, attorney Sean Clapp said.
Second-generation visionary Dr. Gregg Ossip said the company has matured along with Fishers, the site of its second office. Founded in Broad Ripple in 1952, Ossip operates or manages more than 40 optometry practices in Indiana and Illinois.
"It's a great, growing area," he said Monday.
Fishers will forgive all of the real property taxes on the clinic building during the first year of the agreement and 50 percent in the second year. The town also agreed to waive most development fees related to both projects for one year. The lone exception: impact fees, which pay for municipal infrastructure.
Please enable JavaScript to view this content.