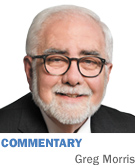 As I was talking with a potential young recruit recently, I was asked a question I'm asked more than any other in an interview: "What is the most important thing you look for in a new hire?"
My answer has been the same for 25 years. I'm looking for someone with a strong work ethic. A strong work ethic puts you ahead of 90 percent of other candidates, regardless of experience.
And I follow that up with: You either have it or you don't. It's not something I can teach you now. It was instilled in you (or it wasn't) as you were growing up. Did you work through high school? Were you involved in extracurricular activities? Did you work through college? Did you get an internship? Were you involved in athletics or school clubs? Did you spend time volunteering for a worthy organization?
This is not new stuff. But the concepts are timeless, especially in today's entitlement, "You owe me" society. I can usually tell in short order, with a pretty high degree of certainty, if a candidate knows what it is to work hard. It's not rocket science.
I think I know what it is to work hard and to be accountable, and I can trace those traits back to my youth. Both of my parents worked hard. They had high expectations of me; sitting around and screwing off wasn't part of the plan.
I had a great first job. I worked at O'Malia's Food Market in Carmel while in high school. I bagged groceries, carried them out to customers' cars, stocked shelves in the dairy and the freezer, mopped floors, cleaned up trash, you name it. There was always work to be done.
But it was fun because the O'Malias were such great people to work for. I learned a lot of lifelong lessons at an early age—like taking responsibility for myself, working hard and the importance of providing great customer service if you want to keep customers coming back. Gone from the grocery business now, Danny O'Malia is still here in town preaching the gospel of providing great customer service and teaching others how to do it through his company, "Indy's Trusted Servant."
I also worked for Ralph Wilfong, a well-known developer in the Carmel/Westfield area. Ralph had a strong blue-collar work ethic. In addition to creating neighborhoods like Village Farms in Westfield and countless others, he owned a lot of horses. I worked in general construction, cut fields of grass with a big Massey Ferguson tractor, baled hay and stacked it in the barn loft, helped with the horses, and anything else that needed to be done.
That was the toughest job of my life to this day. These guys worked hard. I went home sore and exhausted every day. I used to pray for rain so I could get a day off and rest. But I learned a lot—mainly what hard work really was. I wouldn't give up that experience for anything.
In the extracurricular category, I played on the high school reserve golf team, played other intramural sports, joined the Key Club and got involved with a passion that carried me for most of my business career—the radio business.
I loved working at the high school radio station, WHJE-FM 91.3. I spent every minute I could there. I worked my way up through just about every available position. In fact, I just attended WHJE's 50th anniversary open house. It was a blast to see how it operates now and to catch up with fellow radio alumni that I haven't seen in a while. WHJE had a significant positive influence in my life.
In college, I played intramural sports, worked my way through positions of leadership at the Phi Delt fraternity, and had internships at various radio stations each summer. My last summer internship was working in sales for Bill Shirk at WXLW-AM 950. My crowning achievement was trading out advertising for services to remodel the offices to the tune of $27,000—a lot of money back in the late 1970s.
These are just some of the things I believe helped me develop a strong work ethic when I was young. I was fortunate. I had supportive parents with high expectations of me, and I had great jobs and extracurricular activities while in school. These things helped shape my future in a positive way.
Do you want to help your son or daughter get a job in a tough economy? Instill in them a strong work ethic early on. It will serve them well for life.•
__________
Morris is publisher of IBJ. His column appears every other week. To comment on this column, send email to gmorris@ibj.com.
Please enable JavaScript to view this content.