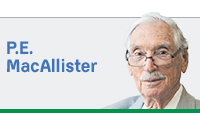 I wrote a piece recently that suggested truth is not eternal but transient. It moves, changes, flexes.
That ought to be considered in a society that struggles to find the right courses or pertinent political action about marriages, ethnic prejudice, government handouts—all timely topics discussed endlessly in the press, on radio and TV, in barrooms and on the golf course.
Good sign, this interest in issues and politics (the vehicle that deals with said conditions), since it helps explore, examine, understand and consider stuff going on about us.
But we ought to remember positions are products of our own standards, experience and more. Ergo, what is acceptable to me might be an anathema to George.
Second, what is truth, (i.e. "right") today might end up out in left field a decade from now. Miscegenation was a fact of life in Indiana a generation back (meaning interracial marriage was illegal). Homosexuality was a crime punishable by prison terms (remember poor Oscar Wilde).
Most of us recall when it came to voting, it was white male property owners who had that privilege, and was expanded to all white males with blacks included after the Civil War. And at long last, women received suffrage in 1920.
Which is to say we multiplied exponentially exactly who "We, The People" are. This was a big shift.
Examining the era of the Puritans and New England justice, we skip over the fact that there were still witches in America. It was 1692 before the last of them were discovered and hanged, one of the most disgusting and disgraceful episodes in our history.
In a republic, change is inexorable, and resisted …
So it is not strange that many today do not agree with programs that expand the role of the state like that supplying food stamps to 27 million people; unemployment compensation for a year or more; or school lunches.
An opposing stance says we are institutionalizing dependency and borrowing astronomical dollars to support a certain class of citizens, solving today's problems while shackling the next generation.
The founding fathers had a different perspective. They created our Constitution to prepare for the future, not merely for now, and included a capability to expand and contract depending on the "the will of the people."
Slavery was allowed and complicated legislation for over half a century. But one day it was gone! Illegal. Had the winners insisted upon outlawing it in 1787, there would have been no Constitution.
Our founders built for the future a wisdom we seem unable to replicate. Legislation is more about "then" than it is about "now." Dumping $17 trillion of debt on those who follow because we haven't the courage to pay for our own mistakes is shortsighted, selfish and un-American.•
__________
MacAllister is chairman of MacAllister Machinery Co. Inc. and a longtime leader in Indianapolis Republican politics. Send comments to ibjedit@ibj.com.
Please enable JavaScript to view this content.