Indianapolis officials plan to use a downtown light show and $30 million in pre-raised corporate cash to wow the NFL's team owners into granting the Circle City the title of Super Bowl host for the second time in six years.
Local bid officials also hoped to announce a new downtown hotel to be built before the 2018 game, but time might be running out on that effort.

Ward
The process to select the Super Bowl is filled with intrigue, including secretive bidding committees, hardcore owner-to-owner lobbying, and a voting process with a troubled past. Though many have tried to handicap the results, those closest to the process say it's wholly unpredictable. With final bids due to the 32 team owners May 7, everything is hanging in the balance.
Indianapolis' odds are further clouded by the uncertainty over whether Indianapolis Colts owner Jim Irsay will attend the May 19-21 owners' meetings in Atlanta, where the vote will take place.
The other two finalists—Minneapolis and New Orleans—are expected to try to exploit Indianapolis' weaknesses, but they have their own deficiencies.
Fresh off an April 22 trip to New York to discuss their bid with NFL executives, Indianapolis officials are cautiously optimistic.
"This is an extremely competitive process," said Colts Chief Operating Officer Pete Ward, who has attended dozens of NFL owners' meetings.
NFL spokesman Brian McCarthy said the oral presentations, owners' vote and announcement of the winner are all set for May 20.
Indianapolis' bid committee will hold a press conference May 7, but with so many of the bid particulars kept secret, it's unclear what will be discussed.
"You don't want to show too many cards," said Ward, a committee member.
Most owners base their decision on the written bid, said Jim Steeg, a California-based sports-event consultant and former NFL vice president who planned 26 Super Bowls.
"You can lose the bid with your oral presentation," Steeg said, "but unless you really wow the owners, it's tough to win more than one or two votes with your in-person presentation."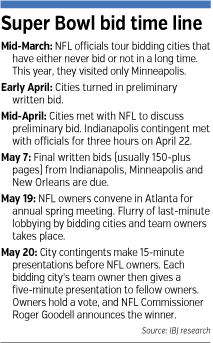 It has happened, though. In 1979, Steeg recalled, Detroit was the first city to use a multimedia presentation.
"It was something they took from the automotive industry," he said. "Before then, it was just sheets on an overhead projector. The owners were like, 'Wow.' It basically won them the bid."
Secret ballot
The Super Bowl vote is the only one NFL team owners take by secret ballot. Steeg said that's because the process is so political and many owners misrepresent whom they're voting for.
"I talked to one owner and I said, 'Have you counted your votes?'" Steeg recalled. "He said, 'Yeah, I've got it. I've got 23 votes.' I said, 'You better count again.' He got four votes and was out in the first round of voting."
It's also the only vote that doesn't require a three-fourths majority. In 1983, before the simple majority rule was enacted, voting for the 1987 Super Bowl site took more than four hours when Philadelphia refused to concede after coming up on the short end of a 19-9 vote.
With three cities bidding this time, the lowest vote earner will be eliminated after the first vote. If on the second vote one of the two remaining cities doesn't get 75 percent of the votes, a third vote follows simple majority rules.
With an estimated economic impact of $175 million for a host city, it's easy to see why the process can turn hostile.
Cities will do almost anything to make their bids stand out. Indianapolis made headlines in 2008 when it used schoolchildren to personally deliver its bid to the 32 team owners and also delivered shrimp cocktail from St. Elmo Steakhouse.
In 2007 and 2008, Indianapolis was the first city to raise the money needed to host the game before the vote. Though local officials wouldn't confirm how much has been raised this time, an executive from one of the companies solicited said more than 95 percent of contributors to the $28 million needed for the 2012 Super Bowl have re-upped.
Minneapolis has been trying to duplicate that feat, but it's unclear if it has succeeded.
Indianapolis officials promised to unveil new surprises this time around.
But it isn't the only city pulling out all the stops. Minneapolis is delivering its bid on iPads—donated by Minnesota-based Best Buy, and New Orleans officials are expected to showcase elements of their 2018 tricentennial celebration in their bid.
"Being creative and innovative, making your bid stand out, is the key," Steeg said. "The idea of using an iPad is a good one."
Indianapolis had hoped to surprise NFL owners with plans for a new upscale hotel—likely on the Pan Am Plaza site—during the final bid process, but it's uncertain whether that will happen. Local hospitality officials declined to comment and Kite Realty Group Trust, which owns the site, did not return calls seeking comment.
NFL owners complained of the shortage of upscale downtown hotels in 2012.
Irsay's role
For the last year, Irsay has lobbied his fellow owners hard to get the game back to Indianapolis. His role now remains unclear.
He was arrested March 16 for driving under the influence and possession of a controlled substance. He was admitted into an out-of-state rehabilitation clinic in mid-March, where he remains.
"He's doing really well," Ward said. "But it's just too early to tell if he'll be able to attend [the owners' meetings]."
During Irsay's absence, his daughter Carlie Irsay-Gordon is leading the team. Irsay-Gordon was involved in the bid process before her father's arrest and "most likely" will continue to be whether or not he attends the meeting, Ward said.
Irsay's absence is a blow to Indianapolis' chances.
"He's been Indianapolis biggest cheerleader and its biggest advocate among NFL owners and executives," said Marc Ganis, president of Sportscorp Ltd., a Chicago-based sports business consultancy that counts several NFL teams as clients. "And it's important to note that Jim is very well liked among NFL owners, so he has considerable sway."
After all three bid committees give a 15-minute presentation, each city's team owner gets five minutes to sway the other owners. If Irsay is unable to attend, Gordon-Irsay will likely deliver that address.
Indy's uphill battle
Ganis said Irsay's absence is not Indianapolis' biggest problem.
"Overall, I'm not so high on Indianapolis' odds for 2018," he said. "They're fighting an uphill battle even with Jim Irsay's support."
There's a groundswell of support among NFL owners, Ganis said, to take the Super Bowl back to New Orleans in 2018 for the city's tricentennial. New Orleans officials have promised to use the Super Bowl as a kick-off for that celebration.
Dave Moroknek, president of Indianapolis-based MainGate, which has handled NFL merchandise sales for the last four Super Bowls, said the tricentennial tie-in "is overblown."
"I'm not sure how the city's tricentennial does anything for NFL fans," Moroknek said. "If I'm an NFL team owner, I want to put the Super Bowl in a city that makes it great, not because it's 300 years old."
New Orleans might be hurt by the fact that the Mercedes Benz Superdome experienced a 34-minute power outage when it last hosted the Super Bowl, in 2013.
Moroknek, whose company was handling merchandise sales in the Superdome when the power went out, disagreed with New Orleans officials who called it an innocuous incident.
"The New Orleans blackout is still very fresh in everyone's mind," Moroknek said. "I've heard a lot of discussions about that. The Super Bowl is the NFL's showcase event and you can't afford to have those types of incidents."
Jay Cicero, president and CEO of the Greater New Orleans Sports Foundation, said the electrical problem has been corrected.
As for Minnesota, Moroknek said its bid will be hurt by the fact that the Vikings' $975 million downtown Minneapolis stadium "has only been seen in drawings."
Construction began in December. The facility won't be up until 2016, and Ganis said the NFL might want to wait for 2019 or 2020 to grant Minneapolis the game.
"There's precedent there," Ganis said. "Indianapolis first bid for the 2011 Super Bowl, but got it in 2012. I think it could be the same way for Minneapolis."
All three cities in early April submitted a preliminary bid, containing at least 150 pages. Then each bidder sent a contingent to the NFL's New York headquarters to discuss their bid.
Indianapolis' contingent—consisting of Ward; Indiana Sports Corp. CEO Allison Melangton; ISC executive Susan Baughman, who has been leading the day-to-day operations of the 2018 bid committee; Visit Indy CEO Leonard Hoops; Lucas Oil Stadium Director Mike Fox; and Deputy Mayor Ryan Vaughn—met with NFL Senior Vice President of Events Frank Supovitz and his staff for more than three hours.
The preliminary bid lays out options for venues, transportation, parking, lodging, security and team practice facilities.

Moroknek
Final bids include features the cities hope will distinguish them—including financial offers and creative enticements. In 2012, Indianapolis was the first host to have a Super Bowl Village and a zip line. NFL officials liked the village so much, it's now mandatory.
Tax breaks sought
The NFL also will expect a number of tax breaks.
NFL employees in 2012 were exempt from paying taxes at Indiana hotels and restaurants, according to an Indiana Department of Revenue directive. That directive remains on the books for the 2018 Super Bowl.
In addition, the NFL uses its 501(c)(6) tax-exempt status to avoid paying taxes on fuel, auto rental and admissions. Indianapolis and New Orleans also have agreed not to charge NFL employees, including players in the Super Bowl, income tax, according to sources close to the league.
Minnesota lawmakers are balking at that provision.
"I can pretty much say with certainty that we're not going to provide income tax breaks for salaries to be a part of this," Minnesota House Speaker Paul Thissen told the St. Paul Pioneer Press. "I don't think there's any appetite for that."
Minnesota officials are emphasizing the nearly $500 million in tax money going toward the Vikings' new stadium, much like Indianapolis did to bring the 2012 game to Lucas Oil Stadium.
But Minneapolis has shortcomings. Its bid listed only 180 hotels with 19,000 rooms and boasted hosting national events that included the 2008 Republican National Convention and 2008 U.S. Women's Open Golf Championship, this summer's Major League Baseball All-Star game and the 2016 Ryder Cup.
That's nothing to sneeze at, but Indianapolis' list of sporting events is much longer—including the 2012 Super Bowl, myriad NCAA men's and women's Final Fours, Big Ten football and basketball championships, and multiple national and international events.
Metro Indianapolis has 33,646 hotel rooms, including 7,182 downtown, although that is still fewer than New Orleans has, especially in the four- and five-star categories.
But hotels might not be the most crucial factor.
"I know the way these guys think," Steeg said. "These NFL owners remember the good and bad experiences when it comes to the Super Bowl. And Indianapolis was a good experience in 2012. One of the best ever."
The next three Super Bowls will be in Glendale, Ariz.; San Francisco; and Houston.•
Please enable JavaScript to view this content.