To achieve a true appreciation for the depth of the work of artist Nancy Noel, you must "step inside The Sanctuary." So declares Noel's website.
Soon that won't be an option.
The prominent regional artist is putting The Sanctuary on the market. The 11,000-square-foot gallery/restaurant/event site is in the heart of Zionsville's downtown business district at 75 N. Main St. Asking price: $1.85 million.
"There's a lot of opportunity for it," said Michael Kosene, Noel's son and the broker for Kosene & Kosene Commercial handling the sale. "Anybody with vision will see that."
While Noel is keeping the Zionsville farm where she lives and paints, she plans on opening her own gallery in New York City rather than go the traditional route and sell work through an established gallery. While that approach will significantly increase her expenses, it will avoid the 50-plus-percent commissions traditionally charged by galleries.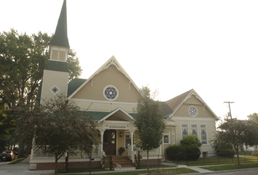 The Sanctuary, a former church Noel renovated for more than $1 million, is located in the heart of Zionsville's downtown. (IBJ Photo)
The Sanctuary opened in 2006, when Noel moved her work to the 19th-century former Methodist church. It was an upgrade from the Broad Ripple industrial space from which she had previously sold her paintings.
More than $1 million was invested in renovating the unique space. Its attributes include a 24-foot-tall fireplace; a bartop once located in Indianapolis' former Claypool Hotel; and original stained-glass windows.
The space soon became more than just a gallery. Noel opened Colours Restaurant, a daily lunch cafe in The Sanctuary. The building also hosts weddings and other events.
But running the space "took me away from my passion and what I do best and know best—my painting and the gallery business," Noel said.
Such a unique building doesn't have to be difficult to sell, according to Jacqueline Haynes, senior vice president of commercial real estate brokerage Cassidy Turley.
"We have this millennial group out there looking for non-traditional locations," she said. "They don't want to go into the standard retail footprint. There's an attractive market for buildings that don't have a traditional feel to them."
And, Haynes added, The Sanctuary has "gorgeous architectural features."
Populated with angelic and Amish imagery, Noel's work is less likely to appeal to the arts intelligentsia than a populist collector. So Noel is on the lookout for Manhattan real estate in a high-traffic area rather than in a district primarily focused on art.
Greater exposure, she hopes, will lead to bigger sales. While she says one of her paintings recently sold for $45,000, "when I get to New York, it will be in the hundreds of thousands."
If that happens, it could be good news for Noel's original Indianapolis collectors, who picked up pieces for $300 during her struggling-artist days.
Noel is optimistic that New York will embrace her work.
"I think people are getting tired of the nonsense [the art world is] pushing and trying to get the public to believe is great art," she said. "I love good abstracts. But the abstract world has allowed people to play in this arena who have nothing to offer.
"I think the audience is getting smart now. They are looking for someone who can grab them emotionally. I think the time is right for me to do what I'm doing."
In New York, of course, it's not hard to find skeptics.
"Good for her. I hope she makes a lot of money," said New York Magazine Senior Art Critic Jerry Saltz. He added, "I'd never go to such a gallery. It has nothing to do with the art world that I know of."
Noel says she's ready for the New York media. "When you put yourself out there," she said, "you have to prepare yourself for the good and the bad that's going to come."
Please enable JavaScript to view this content.