If a local television viewer had a dime for each time a station's weather team plunged a ruler into the snow or scraped white stuff from a windshield, he'd be a millionaire by now.

How many reporters do we need to fan across different parts of town to concur that, yes, snow is accumulating in their location? No snowdrift, Sherlock.

So it's no wonder that some are looking for a supplement or even an alternative to the predictable antics that tend to dominate television weather coverage. A posse of Internet-based prognosticators is offering not just forecasts but sometimes even mounds of data left open to interpretation—sometimes perilously so; remember those recent rumors of an impending 30-inch snowfall in central Indiana?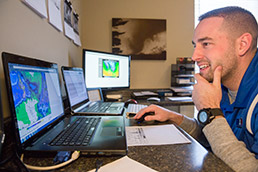 BamChase meteorologist Michael Clark operates from his Greenwood home. (IBJ photo/Aaron P. Bernstein)
When interpreted by trained hands, there's power in such data. It might explain why Michael Clark is building a growing base of visitors to his BamChase.net and is now approaching 2,000 monthly subscribers paying $50 a year for an optional, premium forecast product.

"My educated opinion is not free," said Clark, who attended Mississippi State and now runs the site out of his house in Greenwood. BamChase's laboratory sports a bank of computers, outdoor sensors and even sky cameras peering over the snow-covered rooftops of vinyl-clad homes.

Clark, 26, is backed up by two other team members who helped develop a free weather app that has been out just four months but has already been downloaded 23,000 times, he said.

"It's all about science and facts. There's no hype. There's no drama," he said. "People are going to social media and to private sources for their weather."

Among them is Kevin Mangin, business development chief at Indianapolis snow removal firm B&B Group Inc., who said he needs to know exactly when and where to stage the firm's trucks. Being off by even an hour can cost his firm thousand of dollars. So in addition to watching local television forecasts, the firm pays BamChase to provide super-localized weather projections.

"We're all out in our trucks. I can't go home to turn on the weather and see what Angela Buchman is saying," Mangin said. "Timing is a big deal for us."

Adding value

Independent forecasters like Clark may be onto something. While local TV is still a top news source—almost half of Americans watch regularly—future demographics are enough to gouge worry lines into an anchor's forehead.

The percentage of adults younger than 30 who watch local news regularly dived to 28 percent in 2012 from 42 percent in 2006, according to a Pew Research Center survey.

This, according to the report, is the era of personalized, on-demand news.

Might the same be true of weather forecasting?

"You have to add your own value, whatever that may be. My strategy in media has always been the same—emphasize my personality as much as possible in any situation to try and cut through the clutter of people offering similar services," said Paul Poteet, a veteran Indianapolis broadcaster who operates weather site PaulPoteet.com.

His forecasts are available online and via a number of radio stations and newspapers, including WZPL-FM 99.5 and the Indianapolis Star.

Poteet said the rise of the Internet and readily available data means that simply regurgitating information provided by the National Weather Service, as vital as it is, "has now become more of a commodity" than it used to be.

"I think that is even more important, with the advent of other new media sources that are trying to jockey for attention. Old media isn't going away, but it will be forced more and more to compete for eyes and ears."

Clark doesn't want to come across as tilting against the proverbial TV weather windmill. Given the number of messages left on his cell phone one recent morning from contractors interested in custom forecasts, one gets the feeling he doesn't have time to fret over the TV weather establishment.

Clark will only say that his broadcast counterparts often don't take into account the panoply of computer models he does. He'll pore over models spit out by supercomputers in Canada and Europe (It was, in fact, a European model that correctly predicted that Hurricane Sandy would strike the Northeast in 2012 as North American models initially showed it would remain at sea).

He said many broadcasters are reluctant to risk being wrong on longer-term forecasts, yet give viewers just enough to keep them in anticipation.



Television is, after all, a ratings-driven business.

"I think it's fair to say that weather teams may not feel threatened by independent, Internet-based weather forecast sites, yet," said Terry Heifetz, a telecommunications instructor at Ball State University. "But they are keeping a close eye on them."

Threat to TV?

Local TV stations seem comfortably adorned in their mantle of weather forecasting primacy.

"I wouldn't necessarily say they're competitors to us," Steve Bray, a meteorologist and news director at WISH-TV Channel 8, said of the Internet weather offerings.

Bray, in fact, likened some of the Web-based services to what news bloggers are to traditional news media—sites that often are steeped in opinion.

One trend does seem clear, said WRTV-TV Channel 6 Chief Meteorologist Kevin Gregory. "I think you are seeing an appetite for more information sooner."

It is here where the Internet-based forecasters are often bolder than their broadcast counterparts—sometimes with unintended consequences.

BamChase's Clark has nothing if not a voracious appetite for weather data, often exhausting his cell phone's data minutes each month in the hunt. That search took him to a Canadian weather model several weeks ago that showed central Indiana might be walloped by more than two feet of snow.

Clark mentioned that possibility as part of his detailed, long-range discussions— as well as the other extreme that showed little snow.

Yet someone apparently reposted the high-end estimate on social media outside of context, which helped stir rumors for days of a snow apocalypse. WRTV's director of new media, Glen Hale, said the station received calls from law enforcement, asking if the station put any credibility in the reports floating on social media.

The station even wrote a story on how some had misread Clark's website.

It's still a sore spot for Clark, who doesn't believe he deserves to be linked to the social media rumors. Of course, in the days to follow, television stations didn't hesitate to make references to weather rumors that popped up on the Internet.

Some made self-serving references to their own, "responsible" policies of not trying to read too much from longer-term weather models.

Interpretive skills

Then again, it could be argued that TV weather is too conservative for its own good. A number of industries, such as apparel retailers, pay good money to weather-prognostication firms for an overview of how the season ahead might pan out.

It could also be argued that some TV meteorologists are too beholden to just a few models. That's not necessarily an unhealthy fear, however, given how some meteorologists over the years have predicted rain on Indianapolis Motor Speedway events that never fell—bringing fire and brimstone raining down on the station.

"It's a fear of getting it wrong and of people seeing you in public and bashing you for it," Clark said of his celebrity weather counterparts. On the other hand, "I give [clients] the brutal, honest truth. … If you do your homework, your chances of success are so much better."

He pointed to a number of storms he pegged further out, including a snowstorm in late 2012 and that tornadoes were likely in the area of Henryville in the spring of 2012. In fact, he used that prediction to position himself almost literally in the path of twisters before they arrived, earning him a live spot on CNN's Headline News. "Basically we've built credibility for ourselves in the community and in certain industries."

What Clark, Bray and Gregory all agree on is that a forecast is ultimately more than about computer models—that interpretive skills and local knowledge is fundamental. Bray noted that parts of the state have their own unique weather influences. Bloomington, for example, despite being farther south, is influenced by watersheds and hills that can actually make for a lower temperature than in cities to the north.

For the time being, TV weather appears to be safe from upstarts using new media. Television stations remain the place to go for weather-related school- and business-closing information. Their frostbitten reporters can be dispatched to the worst-hit areas of storms and beam back the news implications to the community.

Still, stations might want to keep an eye out.

"My goal is to be Indiana's go-to source for weather," Clark said. "My edge is that I'm a science freak. … If I got it wrong, I'm losing sleep."•