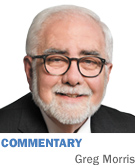 As we all know, it's been a brutal winter, not only here but just about everywhere around the country. The lousy weather has dominated the news and workplace conversations since the first few days of December. We now know what a polar vortex is, and we don't like it.
The weather has severely hurt business sales and profits. And it's been a very long time since I've seen so many people so cranky. Record snowfall, ice and relentless, dangerously cold temperatures have produced countless school closings and two-hour-delayed starts. This has made it very difficult on working parents and the companies they work for.
It's been extremely tough to get on the road and travel safely to work and home again day after day. Just last week, many downtown workers experienced another two-hour commute home to the suburbs when it normally takes 40 minutes. A lot of businesses closed early, but it didn't seem to matter whether you left at 3 p.m., 4 p.m., 5 p.m. or after 6 p.m., it was still a joyous two hours in the car.
For those of us old enough to remember 30-40 years ago, this would have been thought to be a bad winter, but not such a deviation from the norm. Many of us remember when it was cold and snowy in Indiana. But we've had so many mild winters in recent years, that's what we expect now. We're not prepared, mentally or otherwise, when a real doozy like this year hits.
As we were constantly closing schools and businesses this winter, I kept wondering how people make it in places like Minnesota and other more northern states each winter. When I watch the national weather forecast, it's not unusual to see temperatures in those places of 15-below-zero or colder and a foot of snow or more forecasted. Do they shut everything down until it warms up? I don't think so. In our defense, those folks are more prepared, and they've adapted to navigating the extreme weather.
But I've got good news for everyone. We're almost on the other side of this. The first day of spring is March 20 and that's less than 30 days away. I heard the first thunderstorm of the season last week. To mentally prepare yourself, just know we've still got some ridiculously cold temperatures and snow to endure. Expect it to be colder and snowier than normal in March and maybe into April, but each day brings us closer to the meteorological relief we're all desperately seeking.
I'm feeling so good just thinking about it, I might break into my favorite song from the musical "Annie":
The sun'll come out tomorrow
Bet your bottom dollar that tomorrow there'll be sun
Just thinkin' about tomorrow
Clears away the cobwebs and the sorrow 'til there's none
When I'm stuck with a day that's gray and lonely
I just stick out my chin and grin and say, Oh!
The sun'll come out tomorrow
So you got to hang on 'til tomorrow, come what may!
Tomorrow, tomorrow, I love ya, tomorrow
You're only a day away!
I'm not going to lie. That felt great, even though I'm glad nobody was around to hear my lousy singing voice.
What I'm trying to say is that it's time to get back to life as we know it. March is here in a few days. Think good thoughts. It's time to shake off those winter blues. Think spring break someplace warm. Think good sales and profits for your business. Think happy customers getting out and spending money again.
Go spend some money on yourself. Buy yourself something you've been wanting. Update your warm-weather wardrobe. Buy some patio furniture or a new grill. Book a summer vacation. Buy a new home or a new car. Schedule a date night and go out to eat at your favorite restaurant, then see a show. Go see the red-hot Indiana Pacers demolish another visiting team. Renew your IBJ subscription!
While you're letting loose of some cash, please don't forget to support local small businesses. They've had a very tough winter, too, and without the deep pockets of bigger operations, they need business to pick up quickly.
It's time to get happy again. Winter's almost over and warmer weather is just around the corner. I'm confident the sun will come out tomorrow (or at least in the next day or two). Thanks for reading and supporting IBJ.•
__________
Morris is publisher of IBJ. His column appears every other week. To comment on this column, send e-mail to gmorris@ibj.com.
Please enable JavaScript to view this content.