From the front door of Blaze Pizza (913 Indiana Ave., 624-1500), you can see five other pie chains. So what makes this Pasadena, Calif.-based newcomer—which intends to expand to multiple locations in central Indiana—worth mentioning?
Blaze caught my attention because it's the first local representation of a West Coast-fueled trend for fast-fired pizza. Get in line. Pick a sauce. Pick your toppings. Watch your creation get paddled into blazing oven. And two minutes later, you have your ready-to-eat creation. Wise buyers shouldn't expect Pizzology or Napolese, but they should get an upgrade over those other national names within pepperoni-tossing distance.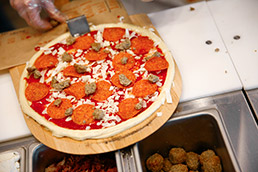 At Blaze, you start with a basic crust, then move down the line selecting toppings: artichokes, arugula and more. (IBJ photo/Aaron P. Bernstein)
It's hard to argue with the price. A build-your-own Blaze pie runs $6.95 with unlimited toppings, which benefits those who like to mix things up. (Keep it to simple dough, sauce and cheese and it's $5). One of the advantages of the order-down-the-line system is that you can regulate quantity. Like a taste of goat cheese on your pie? A drizzle of pesto? Pineapple only on the half that doesn't include the olives? Such orders would drive Papa John himself crazy. But they are part of the game here.
And while the crusts are limited to thin (a step above cracker) or gluten-free, the toppings have a wider range, including artichokes, arugula, applewood bacon, roasted garlic and fresh basil.
Some tips from my visits
• Avoid the temptation to overload. Consider trying a few toppings on one side and another set on the other rather than trying to take maximum advantage of the one-price deal. Too much roasted garlic can render the crust useless as a delivery device.
• Online orders offer quick pickup, but where's the fun in that? Besides, you risk not being able to taste the pie fresh from the oven. Here, dine-in is clearly the best choice—although flash-fired also means flash-cooled. Linger too long at the soda station and you risk returning to pizza as cold as if you waited until day two.
• Don't expect variety beyond the pies. Other pizza chains may feebly try to add sandwiches and wings into the mix, but Blaze stays focused, offering only a few salads and pre-made, but heated in the oven, S'more Pies ($2) for dessert. The latter, unfortunately, didn't have the messy goodness one should expect from the campfire staple.
• Come with a tolerance for shouting. The staff will shout out a greeting when you walk in and the oven-watchers bark your name when your pie is ready.
• And don't be afraid to request a redo. While my first visit brought out crisp, above-expectation pizzas, the second featured a pie that needed extra oven time. When it's all you do, this kind of mistake shouldn't happen.•
Please enable JavaScript to view this content.