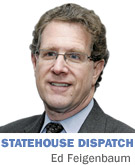 March 3 and 4, respectively, mark the final days for third reading of Senate bills in the House, and third reading of House bills in the Senate. Those deadlines are a significant milestone, because we're now finished with hearings by standing committees and consideration of bills in the ordinary course of business.
Measures that have not yet been adopted in the same form by the House and Senate either must be directed to conference committees for smoothing rough edges between versions adopted by each chamber, or one body must accede to the changes made by the other.
In a typical session, several dozen bills are sent to conference for assorted reasons.
Some are subjected to the process over legitimate policy or fiscal differences to be resolved between the House and the Senate (or between the two bodies and the governor). Others find their way to conference because they are important enough to be used as bargaining chips for the larger end game.
A handful may end up in conference because of final-day time constraints or last-minute discoveries of questions or drafting concerns that need to be worked through. A few might sail into conference to keep a subject-matter area open that may prove to be a home for another related concept.
And a stray group of unlucky bills are dumped into the legislative netherworld for the time-honored tradition of "strip-and-insert," where legislation on a topic such as, for example, regulation of undertakers and cemetery services might emerge from conference after solonic surgery as a bill regulating lobbying activity.
This means you should be vigilant now as to how floor activity unfolds on any bills in which you might have an interest.
The debate on third reading for any particular bill might provide some indication as to its fate in conference. Pay attention to just how much advocates stress why their chamber's version of a measure may be superior to that sent to them from across the Rotunda. Watch to see how much Democratic support there might be for the Republican majority on a given bill, and what that could portend for conference deliberations.
You can also often get a feel for just how desperately leadership (or the Governor's Office) wants a given version by who delivers floor remarks and how the debate is directed and phrased.
Nuance is also important.
An emphasis on the little things can mean a bill heads to conference not to iron out significant differences between House and Senate versions, but for ulterior motives, such as adding related language from something else that was not destined for success. Bills can be carved up at this point, with bits and pieces from some measures added into other bills for assorted reasons to keep them alive, or to help pass something else.
Conference-committee time is also when observers expect—and accept—nefarious activities. Even leaders who are reputed to be sticklers for following the rules frequently bend them at conference time to advance bills to the floor.
This session, however, seems to have seen the type of activity often reserved for conference transpire earlier in the session, only to be tamped down by leaders (although some might argue that committee assignments for House Joint Resolution 3, the definition of marriage amendment, were emblematic of conference-type maneuvering), suggesting, perhaps, that we're more likely than usual to see relatively straightforward conference deliberations.
Regardless of the process itself and how it plays out, there are overarching policy and fiscal issues that need to be resolved at higher pay grades than those of the usual conference-committee members.
Much of the legislative agenda outlined by Gov. Mike Pence remains in limbo headed into the final days of third reading. The fiscal implications of these items, as we explained a few weeks ago, mean that final decisions on just how much can be accomplished in terms of tax cuts, tax incentives, pilot programs and program expansions will become clearer in a few days when February's revenue collection report is released.
That report is not expected to offer much room for fiscal optimism, however, so prepare for dialed-down expectations and long legislative faces.•
__________
Feigenbaum publishes Indiana Legislative Insight. He can be reached at edf@ingrouponline.com.
Please enable JavaScript to view this content.