Moving headquarters from San Diego to Carmel last fall, American Specialty Health easily filled high-level job openings for health coaches and senior managers.
But the company, a provider of wellness programs, still has 40 open positions. While some of them are in hard-to-fill areas of IT, most are entry-level and don't require a bachelor's degree. The challenging hunt for customer service reps, claims examiners and data-entry clerks comes as a bit of a surprise, said Kristin Bragg, associate vice president of human resources.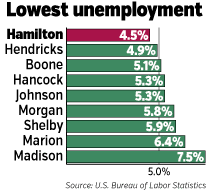 "We realize that, for whatever reason, we're going to need to broaden the scope in other cities and other counties," Bragg said.
The company's recruiting effort probably suffers from ASH's lack of brand-name recognition in central Indiana, but the Hamilton County labor market could play a role. At 4.5 percent in December, Hamilton County's jobless rate was the lowest in the metro area and one of the lowest in the state.
Hamilton County's rate is so low that, if applied to the state or nation, many economists would call it "full" employment, where being out of work has more to do with industry or demographic shifts than the economic cycle, Indiana University economist Bill Witte said. He cautioned that county-level employment rates are not as meaningful as statewide data.
Full employment is a concept that's open to interpretation and a lot of debate among economists. Many economists now think it's anything below 6 percent, but historically the threshold was 5 percent or lower, Witte said.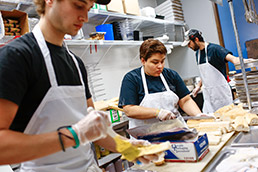 Jon Beaverson and Cynthia Coroa work at the Fishers location of South of Chicago Pizza and Beef. It is three times as busy as the Fletcher Place location. (IBJ photo/Aaron P. Bernstein)
For Hamilton County, which was at 3 percent in December 2007, it might be even lower than 4.5 percent, Witte said, though he added, "Even then, it wouldn't be a lot lower."
Unemployment rates are dropping across the state and region, but Hamilton County's situation is most reminiscent of the pre-recession era. It's the kind of place where a new pizza restaurant might be caught off-guard by a big influx of customers and end up paying overtime to the kitchen staff.
That's what happened when South of Chicago Pizza and Beef opened its doors in the Saxony neighborhood of Fishers last month. The restaurant is three times as busy as the original location in Fletcher Place, southeast of downtown Indianapolis, co-owner Phil Lothamer said.
"I can tell it's a little bit of a tight market," Lothamer said. He needs several more full-time and part-time workers in the kitchen, where some experience is required. In the meantime, he has employees working double shifts, and he's paying overtime.
Businesses shouldn't have trouble finding labor, especially if they can draw from Marion County, where the unemployment rate was 6.4 percent in December, said Morton Marcus, a retired Indiana University state economist.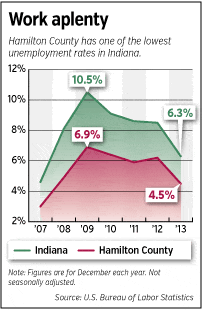 But some managers say crossing county lines isn't as easy as it should be. Hotel workers commonly carpool from Indianapolis to reach their jobs on the U.S. 31 corridor in Carmel.
Radell Green, general manager of the Hampton Inn on North Meridian Street in Carmel, said she rarely sees job applicants from Hamilton County.
"It is much needed for buses to come out to this area," Green said. The last time she was short-handed in housekeeping, Green said, she offered overtime to the staff at a northwest-side location, but they couldn't take it because they didn't have transportation.
Connecting workers to the suburban job market is one of the common arguments in favor of a regional mass-transit system, debated at the Statehouse the past three years. Marcus said he doubts expanding transit would have a measurable impact on the Marion County unemployment rate.
"Those carpools could take one more person if there's a position open," he said.
Access to the whole region is one reason Geico chose to open its new customer-service center near Interstate 465 in Carmel, Assistant Vice President Gary McKenzie said. The location, plus heavy advertising and attractive benefits, is paying off in a large number of qualified candidates, he said.
Announced last March, Geico's local office might employ as many as 1,200 people. McKenzie expects to have filled 800 positions by the end of this year. Most of the new hires, coming from Hamilton and Marion counties, are leaving other jobs or just graduating from college, he said.
Witte said the local labor market reflects the uneven nature of the economic recovery. Wealthy households have seen historic stock-market gains, he said. "People in Hamilton County feel they're doing well. They'll go out and spend more money."
That might create demand for labor in retail, but he said strong hiring, across all industries, has yet to take hold.•
Please enable JavaScript to view this content.