I once walked the perimeter of Philadelphia. The four-day journey was an effort to see the familiar city differently than anyone had seen it before. I thought I was being a journalist. Now, I wonder if perhaps I was actually making art.
That reassessment comes thanks to Sarah Urist Green, former contemporary art curator at the Indianapolis Museum of Art and, now, creator of the new PBS online series "The Art Assignment."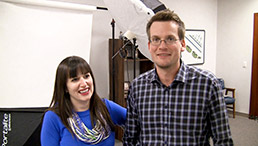 Each week, Former IMA curator Sarah Urist Green offers creative challenges to PBS online viewers. Her husband, best-selling author John Green, adds commentary. (IBJ File Photo)
Green has crafted a series in which, each week, she finds an interesting artist somewhere in the country who concocts an eye-opening creative. The short segments, filmed in cahoots with her best-selling novelist husband John Green, give a bit of background on the art and then encourage viewers to give the project a try.
Two episodes are in the books, and I've tried both.
The first introduces artists Douglas Paulson and Christopher Robbins, whose assignment involves calculating the geographic midpoint between you and someone else in your life (a handy online calculator helps you find the proper coordinates). Your task is to make plans to meet that person at a designated time at that midpoint, decide on a simple something to do, then cut off all communications until that meeting.
While I wasn't exactly expecting simple assignments that involved macaroni art or drawing bunnies, I—like John Green on the video—had to question whether this was art.
In the segment, Sarah Green defends it, making the case that we shouldn't just think of art as objects. She cites Marina Abramovic's "The Great Wall Walk," in which two people began at opposite ends of the Chinese landmark and met in the middle. And another in which two guys, each with half a tuba, wandered Venice until they found each other and played a single note.
Your attempts need not be so epic. If I were friends with Pope Francis, we'd have to meet in the middle of the Atlantic Ocean. But I could also keep it simple and meet a neighbor somewhere by the tree that overhangs both our properties.
Still a bit skeptical, I found a willing accomplice in Clay, a new-ish friend who agreed to meet me at the midway point
between our homes—latitude 39.858712/ longitude 86.109886 (aka around 340 E. 56th St.). We picked a time, agreed to each bring a short game to play, then cut off communications.
I tend to give plenty of time when traveling into the unknown, and was glad I did when it became clear that the geographic midpoint between our homes is not on a street but somewhere over a wall behind the Brockway Apartments. After a few minutes of concern that Clay might be approximating the address from the other side of the midpoint (putting him across the railroad tracks in a completely different area), he arrived, still a bit baffled about what we were doing.
In and around playing with a Zipper Zoom Ball and a card game in his car's open hatch, we discussed definitions of art, neighborhood identity, getting out of one's comfort zone, and the questionable choice of launching "The Art Assignment" with an outdoor challenge in the middle of winter. We did appreciate that the assignment pushed us to think about relationships, convenience and new environments. Then we went home.
For the second assignment, Green steps further outside of traditional definitions of art (stuff that can be shown in museums) to present a task from Chicago-based artist Deb Sokolow, who offered "The Steakout."
This assignment required placing an object or objects in a public spot, then observing how people react to and interact with them and, finally, recording what happened (as I'm doing here as … a journalist? … an artist?).
The precedent here includes examples of artists who danced on the border of stalking, including Sokolow's own ineffectual effort to get people to look at a conspiracy-theory book by inserting money into its pages. (Big shock: Someone takes the money and ignores the book.)
My instinct, after watching the video, was that this was "Candid Camera" without the funny, or "Punk'd" without the "gotcha" element. Still, I get that there are legitimate artistic questions about the watcher and the watched and about the vulnerability or the thrill of observing. Also interesting are unspoken questions about how much an artist can control the reaction to the art.
For my version, I took a pair of hula hoops and stationed them under a Safe Zone sign outside the Pike Library just before nearby Pike High School let out for the day.
I waited in my car to see what might happen, feeling creepier and creepier as an hour ticked along.
Once again, weather was a factor, keeping the usual crowd of teens from hanging out near the bike rack. For a long while, the hoops got only glances, a touch from a small child (quickly told not to by his mother), and an enthusiastic exclamation of, "Hula hoops!" from a girl who, nonetheless, didn't break her stride or stop to take one for a spin.
But pay dirt hit when a rather large guy in a Seniors 2014 sweatshirt stopped, pondered, called something to friends in a car, then picked up the hula hoops … and took them inside the library.
Huh?
When he emerged a minute or two later, he took them to the car and piled in with them.
Done, I figured.
But wait. Senior 2014 emerged from the car, with hula hoops in tow, and took them back to the Safe Zone sign, leaving them there. He returned to the car, which drove away, leaving me baffled.
Did he ask permission in the library or try to find their owner? Did his friends talk him out of taking the hoops home?
The bigger question: Are these social experiments or art? Or both?
I'm not sure. But I'm looking forward to episode three of "The Art Assignment." To try them for yourself, visit http://www.youtube.com/theartassignment.
P.S. I think the next time Clay and I get together, it will be for lunch. Also, when I returned to the library the following morning, the hula hoops were gone.•
—Lou Harry
 
Please enable JavaScript to view this content.