A few years back, city marketers designated Cultural Districts, the better to identify different areas of Indianapolis. Part of downtown, for instance, became known—at least to those marketers—as The Wholesale District.

I just double-checked, however, and none of them are known as the Labor District, which hasn't kept the folks behind Punch Burger from naming their new eatery The Labor District Café (135 N. Pennsylvania St., 672-7591).

Housed in the former site of Sahms on the Plaza, the space is still slightly awkward, feeling like a side area rather than the main dining room. Once you find the second-floor spot, you are greeted by a chalkboard outlining the local sources for much of what's on the menu, including bacon from Smoking Goose, beef from Foster Farms, and popcorn from Cousin Willie's.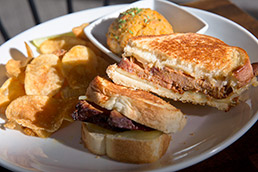 Locally sourced ingredients are proudly featured in Labor District Café's offerings. (IBJ Photo/ Aaron P. Bernstein)
A bowl of that last item is served, gratis, at your table, offering pleasant finger food to launch a lunch. Made-from-scratch soups ($3.49/$4.49), with different offerings each day, are a natural follow-up. The Chicken Noodle found a smart balance of noodles, chunks of chicken and broth. The cream of spinach soup was a nice warm-up on a February afternoon, but beware—its richness is a filling way to start a meal.

Thickly breaded Fried Catfish ($10.99) was outshined by the Root Vegetable Mash I opted for on the side to replace the fries. Densely packed with turnips, carrots, parsnips and more, it proved a pleasant change from standard lunch side dishes. The platter also came with Cajun Slaw that could have used more bite.

My guest dug into a Meatloaf Sandwich ($7.59), a hearty choice that induced a desire for a nap. But the often-deterring mush of meatloaf was accented well by crispy onions and a horseradish cheddar, which had enough kick to set this sandwich apart from what Mom used to make.

Labor District Café also offers a Pick Two option ($8.88), allowing diners to choose from among a half sandwich, a bowl of soup and a half salad (either Chef, Cobb, Caesar or a Romaine Wedge).

For dessert? Local pies, of course ($2.99/slice). On our visit, the long list of available choices from Elkhart Pie Co. included Blueberry and Sugar Cream, both substantial and satisfying if not quite blue-ribbon quality. But, before you order, check the clock. If you don't have time for a leisurely lunch (a blessing or a curse, depending on your perspective and how closely your lunch hour is policed), consider taking the pie to go.

Those even more time-strapped might want to just order the whole meal from the take-out side, just across the wall, where the same menu is offered to go.•

–Lou Harry