Mechanical problems caused Duke Energy Indiana's $3.5 billion power plant in Edwardsport to generate a mere 4 percent of its maximum capacity in January, according to company officials and regulatory filings.
 
The plant's electricity output was by far the lowest since Duke declared the facility commercially operational in June.
Construction of Duke's Edwardsport coal gasification plant was beset by massive cost overruns. (File photo)
Edwardsport generated 19,644 megawatt hours of electricity, enough to power about 20,000 homes, in one of the most frigid months on record, according to a Feb. 28 filing with the Indiana Utility Regulatory Commission.
 
The new plant, at its maximum capacity, could have generated almost 460,000 megawatt hours in January.
The most electricity the plant has generated in a single month to date was about 278,000 megawatt hours, or about 60 percent of capacity, in August. That was in line with what Duke expected as the plant ramps up to full service over the 15 months following its debut.
 
The plant suffered a variety of mechanical failures in January, said Duke spokeswoman Angeline Protogere. They included leaks in a few systems—the lock hopper flush valve, which is part of a system that handles mineral slag, and the performance heater boiler feed water system, which heats the synthesized gas and optimizes fuel burn in combustion turbines.
The plant also went offline once in January when outdoor equipment froze in frigid temperatures.
 
"While the problems weren't major, they did limit our generation," Protogere said. "We believe we have addressed those issues."
 
However, the slowdown continued into February, she acknowledged.
With machinery down in February, Duke decided to bump up a maintenance shutdown scheduled for March. That kept Edwardsport offline longer than it would otherwise have been in February.
 
Duke won't report the plant's February performance until the end of March.
Protogere said that Duke has not yet assessed whether the work would fall under the heading of a design problem, in which case it would be covered by shareholders, or whether it was regular maintenance and repairs, the cost of which could be passed onto customers. All costs are subject to regulatory review, she added.
 
One critic blasted the Edwardsport plant's technical woes, saying the facility is proving that fears about its viability were valid.
 
"I hate to paint this thing with a broad, 40,000-foot brush, but this goes back to everything we've been saying since 2006," said Kerwin Olson, executive director of the Citizens Action Coalition, an Indianapolis lobby for utility consumers.
 
The project, originally billed in 2006 as an efficient way to generate electricity by converting coal to gas, has struggled with billion-dollar cost overruns and ethical breaches that resulted in high-profile firings at both Duke and the IURC. The plant's original cost estimate was $1.9 billion.
In late 2012, state utility regulators capped the amount Duke could collect from ratepayers for construction at about $2.6 billion, with Duke having to cover about $900 million itself.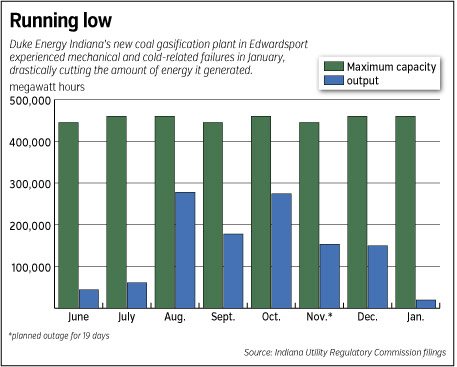 Olson said this week that Citizens Action Coalition soon would file a complaint with the state about the January troubles. He would not reveal what the filing would say.
Duke Energy Indiana provides electricity to about 790,000 homes and businesses in Indiana. The company has said ratepayers can expect a 14-percent to 16-percent increase in their monthly bills for construction of the Edwardsport plant through 2015.
Parent firm Duke Energy Corp., based in Charlotte, N.C., operates dozens of power plants and serves 7.2 million electric retail customers in six states in the Southeast and Midwest.
 
Please enable JavaScript to view this content.