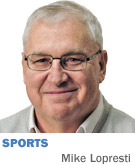 So you claim you know your Big Ten basketball? Well, we'll see about that.
It's the Big Ten coaches' trivia test, just in time for the conference tournament coming to town. These dozen men have endured an erratic winter. You'd find more predictable flight paths in a bat cave.
Michigan State used to be ranked No. 1, but at last count had lost six of 10.
Ohio State was once No. 3 in the nation, and is now unranked.    
Wisconsin went from 16-0, to losing five of six, to winning seven in a row. Whoever's driving the Badgers should be given a Breathalyzer test.
Indiana beat four ranked conference opponents, but lost to Illinois, Purdue, Northwestern and Penn State—the bottom four teams in the standings.   
Illinois lost eight conference games in a row, then held four consecutive opponents under 50 points, something its football team could not do last fall.
You get the idea. And now Bankers Life Fieldhouse will stage the denouement. But first, 12 coaches, 12 observations.
1. Northwestern's Chris Collins played at Duke. One thing to remember:
A. He scored 12 points in the 1994 national championship game.
B. Duke has been to 37 NCAA tournaments, which is 37 more than Northwestern.
C. His name is a lot easier to spell than Mike Krzyzewski.
2. Michigan's John Beilein has never spent one day as an assistant coach. That is impressive because:
A. He has coached nearly four decades.
B. He has pretty much left every job on his own terms.
C. He's always had the best seat on the team bus.
3. In 2001, Tom Izzo was presented honorary degrees and gave commencement addresses at two different colleges: alma mater Northern Michigan and employer Michigan State. Which begs the question:
A. Did he get more commencement invitations in 2001 than President Bush?
B. Were his honorary degrees in March Madnessology?
C. Did he give the same speech at both places?
4. Ohio State's Thad Matta led Butler in 1989 when he made 87 percent of his free throws. From this, we can deduce:
A. He was probably the Bulldog of choice to go to the line whenever the other team got a technical.
B. He practiced a lot.
C. If only he could go to the line for this year's Buckeyes, who at last look were tied for 181st in the nation in free-throw shooting.
5. Minnesota's Richard Pitino just lost a recruiting battle with Louisville over a 7-2 player from Egypt. This tells us:
A. There goes Rick Pitino's Father's Day card.
B. It can't be easy to sell a kid from the desert on spending his winters in Minnesota.
C. Maybe the prospect got his Pitinos mixed up.
6. Wisconsin's Bo Ryan started as a high school history teacher. This means:
A. He has a solid perspective on how far he has come.
B. His ability to teach is a reason the three sure things in Wisconsin are death, taxes and 20 wins by the Badgers.
C. He might be the only Big Ten coach who knows what caused the Crimean War.
7. Nebraska's Tim Miles graduated from the University of Mary, which didn't have athletics until 1970. Which makes you wonder:
A. Where on earth is the University of Mary? (South Dakota, by the way)
B. Is this yet another school that will get invited to the NCAA Tournament before Northwestern?
C. Did the College of William and Mary get a divorce and change back to its maiden name?
8. Penn State's Patrick Chambers is one of 12 kids. How this translates to being head coach:
A. It made him value quickness, since he had so many people to beat to the dinner table.
B. He's probably pretty good at remembering names.
C. It must be nice having a secretary to help with all the birthday cards.
9. llinois' John Groce is a graduate of Taylor University. What is most notable:
A. He quit playing his senior year, to be a student assistant coach.
B. He was a math major, so any statistics questions went to him.
C. He is the only Big Ten coach who can find Upland without a GPS.
10. Iowa's Fran McCaffery was an Ivy Leaguer at Penn. It'd be interesting to know:
A. His thoughts about leading the league in assists and steals.
B. Why he transferred from Wake Forest.
C. His SAT scores.
11.  Purdue's Matt Painter is the only Big Ten coach leading his alma mater. This means:
A. He already knew where the best pizza places were in West Lafayette.
B. He can probably do a swell Gene Keady impression.
C. He understood early the joy of beating Indiana.
12. The trivia question to ask Indiana's Tom Crean is:
A. His pride in having every senior graduate.
B. What's it like having two brothers-in-law coach in the Super Bowl.
C. If the guy who wrote the song "I Would Walk 500 Miles" came up with the lyrics watching him on the sidelines.
  It's tournament time. Gentlemen, start your game plans.•
__________
Lopresti is a lifelong resident of Richmond and a graduate of Ball State University. He was a columnist for USA Today and Gannett newspapers for 31 years; he covered 34 Final Fours, 30 Super Bowls, 32 World Series and 16 Olympics. His column appears weekly. He can be reached at mlopresti@ibj.com.
Please enable JavaScript to view this content.