Hamilton County might soon join the growing ranks of large utility users looking to hedge against rising prices by producing some of their own power.
County commissioners are working with local energy consultant Johnson Melloh Solutions to come up with a plan to put rooftop solar panels on public property including the courthouse and jail, generating savings along with electricity.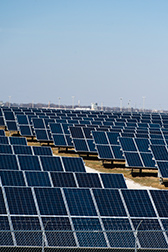 Indianapolis International Airport property is home to 44,128 solar panels. (IBJ photo/Eric Learned)
"It mitigates the risk of increasing utility costs," said Commissioner Mark Heirbrandt, who works as an energy-efficiency and water-treatment consultant.
Although still modest in comparison to our coastal cousins, Indiana's electric rates are expected to climb 32 percent over the next decade, according to a December report from the State Utility Forecasting Group at Purdue University.
Solar prices, meanwhile, have dropped by about half in the past five years, spurring more interest from large users like Hamilton County.
"It's definitely on the upswing here," said Bill Hutzel, a professor of mechanical engineering technology at Purdue who specializes in high-performance buildings.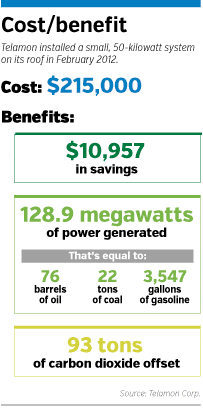 Coal-rich Indiana is still playing catch-up compared with some states, but observers expect solar initiatives to proliferate as the pricing trends continue.
Johnson Melloh Solutions has worked with public and private clients on a range of energy-saving projects since spinning off from Indianapolis-based mechanical contractor Johnson Melloh Inc. in 2009. Its clients—mostly school corporations and municipalities—have embraced solar power in particular.
Since adding renewable energy to its portfolio four years ago, the company has developed 62 solar projects with a total capacity of 23 megawatts. It installed a 108-kilowatt solar farm on top of the city's Department of Public Works building at 1737 S. West St., for example, and a small solar array on the roof of Cathedral High School.
"We're seeing a shift in the marketplace," Chief Operating Officer Bob McKinney said.
Even traditional providers like Indianapolis Power & Light are exploring the possibilities. IPL agreed to buy up to 100 megawatts of electricity from alternative sources in its service territory as part of its Renewable Energy Production initiative. So far, 23 of the 30 projects are operational, IPL spokeswoman Brandi Davis-Handy said.
The highest profile is the massive solar farm at Indianapolis International Airport. Commissioned in October, its 44,128 panels are capable of producing enough energy to power more than 1,800 average homes for a year. A second phase also is planned.
Johnson Melloh Solutions and Carmel-based Telamon Corp. joined forces with other partners on the airport solar farm, which leaders hope will serve as a model for others considering renewable energy.
In the two years since Johnson Melloh installed a small solar array on a portion of Telamon's roof, the demonstration project has produced more than 129 megawatt hours of electricity—the equivalent of 22 tons of coal, according to the company's monitoring website.
While residential and commercial users like Telamon (and Hamilton County) typically produce only enough power for their own use, utility-scale installations like the IND Solar Farm sell power to providers like IPL.
'Game is changing'
Nationwide, 34 states require a portion of electric generation to come from renewable-energy sources like solar and wind, said Vincent Liu, executive vice president of Telamon's Energy Solutions division. Indiana is not among them. Other states also offer financial incentives.
Indiana has been slower to embrace renewable energy because the state's coal-rich heritage has kept utility rates relatively low, said Purdue's Hutzel. But tighter environmental standards and new coal-fired construction are driving up costs, he said, and federal assistance is available for some projects.
Purdue researchers are working with a consortium of manufacturers—including the likes of John Deere—interested in a "microgrid" of rooftop solar arrays to reduce factories' electric load during peak demand, Hutzel said. In addition to a standard per-kilowatt-hour-charge, large users pay a premium for heavy use.
"It may not pay dividends this year, but they recognize the game is changing," he said. "And they want to be prepared."
Johnson Melloh doesn't steer all its clients straight to solar. Behavior modification (turning off lights, turning down heat) comes first, followed by equipment and facility upgrades that boost efficiency.
"We wanted to look long term," McKinney said. "It's about energy diversification, not replacement. It's simply a hedge against rising electric rates."
He credits several factors for the solar industry's recent resurgence after a false start during the Carter administration: Products are more efficient, prices have dropped "phenomenally"—from almost $6 per kilowatt hour in 2010 to about $2.15 now—and financing is readily available.
The so-called "levelized cost" of solar energy—the total cost of installing and maintaining a system, divided by its expected power output—comes out to an average of 9 cents to 11 cents per kilowatt hour, McKinney said. By comparison, traditional electric systems cost 7 cents to 9 cents per kilowatt hour.
Locking in prices
Being able to lock in a price for the 25-year life span of the solar panels is another advantage, McKinney said, particularly for the public entities Johnson Melloh serves.
"That's good for our clients, because they can budget for that," he said. "It's hard to budget for a 6-percent increase one year and a 12-percent increase the next year. … [With another source of energy], they can take control of some of that."
Early adopters like the city of Indianapolis, which installed solar panels at its City-County Building and on top of two Department of Public Works facilities, are leading by example, McKinney said.
Indianapolis' energy initiative started after Mayor Greg Ballard took office in 2008; the city set out to make 61 city-owned buildings more efficient, with $18 million in upgrades to lighting, HVAC equipment and building controls.

Heirbrandt
Hamilton County has similar ambitions. Officials have been working to cut utility costs for years as the county adjusts to state tax caps and other funding challenges. The effort got a dedicated cheerleader last year, when Heirbrandt joined the board.
LED lighting and better control systems were relatively quick fixes. Next up is $1.3 million in equipment upgrades included in a series of bond issues the county approved last year to clear a backlog of projects.
Rather than refurbish the 21-year-old Government Center chillers, for example, crews will replace them with energy-efficient air compressors. The all-electric building also will get natural gas service.
While they're working on those projects, contractors will prepare the roof for a planned building expansion and the possible solar installation.
At the county's request, the initial proposal called for installing solar panels on all 31 public buildings. An investment of $13 million would produce utility savings of about $33 million over 25 years, Commissioner Steve Dillinger said during his State of the County address in January.
Commissioners have since asked the energy consultant to scale back the project to about half that size, Heirbrandt said. A revised proposal is expected this month.
Building and Grounds chief Steve Wood is enthusiastic about the energy initiative, even though it means more work for him and his staff. The financial return is undeniable—simple changes like the LED lighting already have resulted in more than $400,000 in savings—but the environmental impact also is key.•
Please enable JavaScript to view this content.