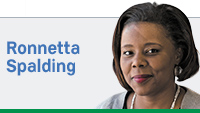 Every time I see an IndyGo story, I brace myself for the good, the bad and the oh-so ugly.
Dare I mention the shiny sketches for the recently unveiled transit center? Although the sketches looked good on paper, it took just seconds for shouts of wasteful spending to surface from people who read about the news, loyal bus riders and transit supporters.
Let's be clear: IndyGo's $13.5 million federal grant can be used for the transit center and for the transit center only. By law, it cannot be spent to add routes or buses or to pay drivers more. Or for anything else.
Only for the new center.
So there is no corruption or other unethical shifting of resources. There is no coverup.
It's common practice to condemn the city's lone bus company for not pulling itself up by its bootstraps, or to blame management for misguided steps toward yet another grand scheme to invest in something new before putting more buses and routes on the streets.
This time around, the public appears to be confused over what the bus company can and cannot do with federal money.
Yes, I'm a former IndyGo staffer, departing in 2009. But unless there's some secret club of ex-employees I'm not aware of, my support is not a hidden agenda to, say, take over IndyGo's communications department. I believe in public transportation and I believe in IndyGo.
I'm not waving a green flag at the center's worthiness as a signature structure, as the mayor put it, or even for the need to build it at all. You have your pick of the pros and cons for those debates.
Talks of better transit almost always point to who is going to fund it. Toss up IndyGo's name and the public immediately sees an anemic system and complains that investing in it is a long way from reality.
For me, the transit center is a small piece of the puzzle, and I don't blame IndyGo one bit for seizing it. I would actually be upset if it passed on the money, giving in to everyone else's solutions for erasing years of underfunding.
I sometimes think people imagine themselves blinking and IndyGo's suddenly becoming like the public transportation companies they actually use in other cities.
Nope, you gotta put something in to get something even better out of it.
And for the ones you do use and admire? Those transits spent years putting money into their bus companies. That type of investment does not happen overnight.
To think that IndyGo would pass on a transit center until the system was bigger and better is just ridiculous. The feds are not going to hold onto the grant, and it won't sit untouched until a time of our choosing.
We have to act within the given time line or—poof—it's gone.
It would be ideal to not have to chisel away at a larger plan to make IndyGo thrive on a continuous basis. But, that's where we are.•
__________
Spalding is executive director of the 51% Club, a project of the Indiana Democratic Party. Send comments to ibjedit@ibj.com.
Please enable JavaScript to view this content.