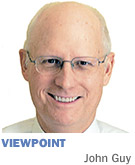 Disagreements about education reform result from conflicting models: the business model and the social model. Governors such as Daniels and Pence, reflecting their backgrounds and support structures, tend toward the business model. Superintendent Ritz, with almost 35 years as a teacher/communications coordinator in elementary schools, is more aligned with the social model.
Business interests are inclined toward theoretical and structural changes instead of new spending that leads to higher taxes. Advocates of the social model request more resources, such as for preschool programs.
The business model is found in securities firms in which every sale results in data and ranking. The highest producers are praised. The model contains no element based on results for clients, although higher commissions resulting from client retention indirectly reflect quality of service.
Every business is based on this system. Rarely do firms reward individuals who work in unattractive places that tend to have lower total sales. Everyone is evaluated in the same pot.
Components of education reform come from the business model. Reforms were impossible as recently as 30 years ago because standardized testing, compilation of test data and evaluation of schools (A to F) based on the data were not possible before widespread availability of computers.
Proponents believe test data produce reliable indicators of effective teachers and schools, and that teaching, in general, will improve if the best teachers are recognized and rewarded. They also believe competition improves results for everyone, hence new charter schools, vouchers to private schools and replacing management of schools that show low test performance.
The social model is not friendly to precise measurement and related reforms. It does not agree that test scores produce significant data. While business sales data is uniform, test data is not. For example, a standardized test emphasizing skills in algebra does not reflect all mathematical abilities. Any test, in any category, fails to cover the entirety of a student's competence.
The social model considers context such as income and education of adults in the service area and parent support of students. These are intangibles not easily calculated and ranked. Teachers and administrators know differences, but cannot describe them in business terms. They cannot document that the best and strongest teachers might generate the weakest test data because of context, or that weak teachers show strong data in positive environments.
The social model relies on intuitive understanding, on the respect and love students have for their teachers, on the supreme challenges facing students and teachers in difficult situations such as physical plants with poor lighting, rooms without air-conditioning, and high unemployment.
The social model accepts as self-evident that schools with first-class football fields, top-quality auditoriums, fine rooms and support structures—schools with resources—are graded A, while schools in tough environments get F's.
Eighty percent of my working life was inside the business model. I loved it. Twenty percent was in the social model (Peace Corps, Red Cross, service clubs, teaching, Big Brothers, Mental Health Association, the ballet, Heartland Film Festival, civil liberties, a foreign affairs study group).
Having participated in both models, to me, the business model cannot work in the social setting. Forcing it where it does not belong undermines the social model, demoralizes and trivializes its participants, demeans professional self-image and makes teaching unattractive.
Business model reforms speak loudly, but signify nothing.•
__________
Guy is an Indianapolis money manager, certified financial planner and president of Wealth Planning & Management LLC. He is the author of "Middle Man, A Broker's Tale." Send comments on this column to ibjedit@ibj.com.
Please enable JavaScript to view this content.